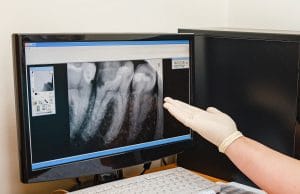 Aside from lifelike restorations and advanced prosthetics, including dental implants, our team employs a number of other technologies to treat your smile and provide a diagnosis with accuracy and precision. In today's blog, your Livonia, MI, dentist is looking at a few of the advanced technologies we offer our patients.
Digital X-Rays
Instead of traditional x-ray systems, we will use a digital alternative that provides images instantly chairside. No need to develop them in harsh chemicals and wait around, instead we can instantly walk you through the diagnostic process, showing you any issues with highly detailed images of your teeth, roots, jaw, and oral structures. The technology also uses up to 90% less radiation than traditional systems too!
DIAGNOdent
To diagnose the presence of tooth decay in the earliest stages of demineralization, and to do so quickly and comfortably, our team will employ the DIAGNOdent handheld laser system. Using a unique laser technology, this identifies demineralization in the enamel and provides a detailed read out on the extent of the damage. We can then address the issue before you experience toothache's, and before an infection has time to develop. We can then offer treatments, such as a tooth-colored filling, to safeguard your smile and ensure a lifelike appearance.
Intraoral Cameras
Using digital camera technology, we can provide a more thorough and accurate diagnosis for your smile. We gather these images using a tiny camera at the end of thin wand, which enables us to take a variety of images quickly and comfortably, using them to identify oral health issues in the earliest stages. We can plan restorations, such as crown placement, and also tooth replacement as well.
Orasphere
What should you do while you wait for your procedure to end? Well, our team can provide a series of 3D animated videos that answer common questions about treatments and oral health, and help you understand how we improve common oral health conditions. These videos are often a soothing and distracting way to pass the time during your visit, and a chance for you to gain a better understanding of your oral health!
If you have any questions about any of these technologies, or if you would like to schedule a checkup and cleaning visit soon, then contact our team today. Remember, setting up a visit now means you can use any remaining 2020 dental insurance benefits before they expire, and start 2021 with a brighter, healthier smile!
DO YOU HAVE QUESTIONS ABOUT DENTAL TECHNOLOGY?
Our team is ready to offer the care and treatment options to return smiles to optimal function, health, and beauty. For more information on the technologies and treatments we use to correct your smile, then call the office of James Stewart, DDS in Livonia, MI, today at (734) 425-4400.