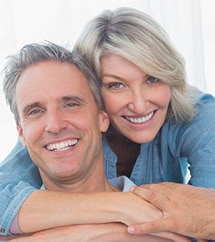 Dental Crowns
If you're self-conscious about your smile because of cracked, broken, decayed, or worn teeth, Dr. Stewart may recommend dental crowns. Dental crowns can be used for the following:
Build up worn teeth
Close spaces between teeth
Change the angle of teeth
Replace missing teeth
As part of a bridge or dental implant
Crowns are a durable, strong, and long-lasting way to restore a tooth with extensive damage. Crowns cover the part of a tooth above the gumline, also called the crown, and when fabricated with dental porcelain or zirconia, look totally natural. In some cases, however, metal or porcelain-fused-to-metal is preferred for durability, particularly in the case of molars.
Also called partial crowns or ¾ crowns, inlays and onlays are the treatment option between a crown and a filling. Inlays and onlays are made in a dental lab with porcelain, zirconia, or metal, like a crown. However, they do not cover the entire tooth. Inlays fit between the cusps, or bumps, on the top of a tooth. Onlays fit over a cusp and down the side of a tooth. These partial crowns provide a conservative alternative to a full dental crown.
Schedule Your Appointment Today!
At the offices of James R. Stewart, Jr., DDS, PC, we look forward to providing you with comprehensive dental services for optimal oral health. We look forward to creating lasting, caring relationships with each of our patients for pleasant visits and lifelong satisfaction. Please contact us at your earliest convenience to schedule an appointment with Dr. Stewart at our Livonia office located on Middlebelt Road. We proudly serve patients of all ages from Livonia, Farmington Hills, Farmington, Plymouth, Northville, Novi, Dearborn Heights, Dearborn, Garden City, Westland, Redford, and surrounding communities.