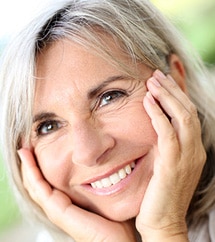 Dental Implants
To maximize stability of your dentures we may recommend dental implants. Dr. Stewart believes dental implants can help make your dentures the next best thing to natural teeth! He will partner with you to determine if implant-supported dentures are the right solution for your smile. Implants can also replace individual teeth or secure a bridge or partial.
Why Are Implants So Great?
Traditional dental prosthetics replace only the crown portion of the tooth – that's the white portion we see above the gumline. Our teeth, however, extend below the gumline and into the jaw. Our roots anchor our natural teeth to our jawbone. Implants are designed to replace both the crown and root of the tooth. They're tiny, biocompatible, titanium posts set into the sockets left by missing teeth. Our jawbone naturally integrates with the post, anchoring the replacement tooth in place, so you'll never have to worry about loose, wobbly, ill-fitting prosthetics.
Another benefit of implants is bone stimulation. Our jawbone will deteriorate over time without stimulation from our roots. Traditional bridges, partials, and dentures lend no stimulation to bone, therefore it degenerates. The implant post, however, helps keep the jawbone dense and strong.
Mini Dental Implants
If your jawbone density is not sufficient for traditional dental implants, Dr. Stewart may suggest mini dental implants. These smaller implants are specifically designed for patients who want denture retention, but don't have the required jawbone density. Mini implants create an option that does not require bone grafting prior to implant placement. Furthermore, mini dental implants don't require traditional surgery. Dr. Stewart can place them in our dental office in a single visit.
Schedule Your Appointment Today!
At the offices of James R. Stewart, Jr., DDS, PC, we look forward to providing you with comprehensive dental services for optimal oral health. We look forward to creating lasting, caring relationships with each of our patients for pleasant visits and lifelong satisfaction. Please contact us at your earliest convenience to schedule an appointment with Dr. Stewart at our Livonia office located on Middlebelt Road. We proudly serve patients of all ages from Livonia, Farmington Hills, Farmington, Plymouth, Northville, Novi, Dearborn Heights, Dearborn, Garden City, Westland, Redford, and surrounding communities.