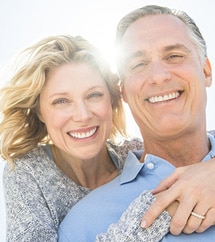 Dental Bridges in Livonia, MI
If you are missing teeth, you are familiar with the urge to cover your smile so nobody notices, as well as the problems it causes with eating and speaking. Reclaim your confidence and quality of life by considering a dental bridge. This restorative prosthetic can replace one tooth or several teeth in a row, for a complete, beautiful smile.
What Are Dental Bridges?
A dental bridge, as its name implies, is a dental prosthetic that "bridges" the gap from one tooth to another. A dental bridge is permanently secured to adjacent healthy teeth called abutment teeth, for comfortable, wiggle-free function, and consists of artificial porcelain teeth and a minimal artificial gumline.
Am I a Good Candidate?
If you are missing a single tooth, or two or more teeth in a row, you are a good candidate for a dental bridge. However, if you are missing a single tooth here and there, not in a row, ask Dr. Stewart about more efficient options, such as dental implants.
In addition, because bridges rely on anchor teeth, you need a support system. If your natural teeth are deemed healthy, you are in the clear. However, if your teeth are unhealthy or you do not have anchor teeth, Dr. Stewart may suggest placing two dental implant teeth to which he will permanently affix the bridge to complete your smile. Another alternative is an implant-supported bridge.
What Can I Expect?
Dr. Stewart will take X-rays and digital images to determine the health of your teeth and jawbone. Impressions will also be taken and sent to a lab where a professional lab technician will fabricate a custom bridge that restores the function and beauty of your smile.
What Are the Benefits of Dental Bridges?
Choosing a permanent bridge is a big decision. Our team is happy to discuss your options and explain every step of the process so you feel comfortable and satisfied on your journey toward a restored smile. The following benefits can help you decide which choice is best for your lifestyle:
A bridge is less expensive than dental implants while still offering a permanent solution
Bridges can address single teeth or several teeth at a time
This prosthetic does not require an invasive procedure or any local anesthetic
Bridges offer a permanent alternative to partials
Bridges provide the ability to speak and eat without the slippage associated with dentures
Completing your smile fills spaces left by missing teeth, to help avoid the shifting of your remaining natural teeth and subsequent misalignment
Schedule Your Appointment Today!
At the offices of James R. Stewart, Jr., DDS, PC, we look forward to providing you with comprehensive dental services for optimal oral health. We look forward to creating lasting, caring relationships with each of our patients for pleasant visits and lifelong satisfaction. Please contact us at your earliest convenience to schedule an appointment with Dr. Stewart at our Livonia office located on Middlebelt Road. We proudly serve patients of all ages from Livonia, Farmington Hills, Farmington, Plymouth, Northville, Novi, Dearborn Heights, Dearborn, Garden City, Westland, Redford, and surrounding communities.