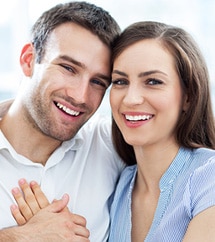 Professional Dental Hygiene (Cleanings)
Along with six-month checkups, you need a dental cleaning. At these visits, you'll meet with one of our friendly, gentle hygienists. A hygienist has a degree in dental hygiene, so she is qualified (and eager) to educate you about dental homecare and homecare products. The hygienist will answer your questions about brushing, flossing, and preventing bad breath.

She will also clean your teeth to remove plaque, the sticky, smelly substance produced by oral bacteria, and tartar, which is hardened plaque. Both plaque and tartar can irritate gum tissue and initiate infection, or gum disease. About 80 percent of Americans have gum disease, and it has been linked to heart attack, stroke, respiratory problems, low birth weight, Alzheimer's disease, dementia, and diabetes complications. If you have gum disease, the hygienist will recommend a deep cleaning, or periodontal treatment. Left untreated, gum disease can progress to periodontitis, which causes tooth loss, gum recession, and jawbone degeneration. If you think you might be developing gum disease, it's very important to seek treatment and follow your hygienist's instructions.
Schedule Your Appointment Today!
At the offices of James R. Stewart, Jr., DDS, PC, we look forward to providing you with comprehensive dental services for optimal oral health. We look forward to creating lasting, caring relationships with each of our patients for pleasant visits and lifelong satisfaction. Please contact us at your earliest convenience to schedule an appointment with Dr. Stewart at our Livonia office located on Middlebelt Road. We proudly serve patients of all ages from Livonia, Farmington Hills, Farmington, Plymouth, Northville, Novi, Dearborn Heights, Dearborn, Garden City, Westland, Redford, and surrounding communities.