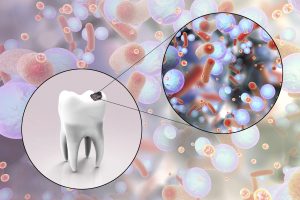 When a cavity isn't treated early, this common oral health issue could soon lead to painful toothaches, and serious infections. Over time, they could even mean the risk of losing the tooth completely! Fortunately, your Livonia, MI, dentist helps diagnose and treat tooth decay in the earliest stages of demineralization with the DIAGNOdent laser system.
The Causes Tooth Decay
We also recommend a visit every six months, as exams allow us to watch your smile and diagnose the earliest stages of serious oral health issues, even cavities! The enamel coating our teeth helps protect sensitive inner structure from bacteria. However, poor oral health habits could lead to weakened and eroded enamel, exposing sensitive inner portions to bacteria and allowing a cavity to form. Causes include lack of proper brushing and flossing, infrequent cleanings, teeth grinding, and foods high in sugar and starch, which promotes plaque buildup and enamel erosion. Warning signs vary, but often include persistent tooth sensitivity and toothaches.
Catching Demineralization
The cavity starts as demineralization, when parts of the outer enamel become weak and threaten to expose inner dentin and cause a cavity. With the DIAGNOdent system, we use a special handheld device to identify areas of demineralization, or very early decay. A detailed digital read out shows us the extent of the damaged enamel, so we can prescribe the right treatment option. We no longer need to rely on metal probes, and we can offer care before you experience painful sensitivity and aches. Remember, stopping decay helps prevent painful infections and other complications that could lead to serious trouble, including tooth loss!
Preventing Future Cavities
What can be done to lower the risk of cavities in the first place? First, try to cut back on sugary foods and drinks, instead drink more water and opt for healthier snack alternatives. Be sure you brush your teeth twice a day for two minutes, when you wake and again before bed, using a fluoride toothpaste. Be sure your toothbrush, whether manual or electric, uses soft bristles to prevent inadvertent damage should you brush too hard. Be sure to floss up and down each side of every tooth before bed too! Finally, see us every six months for a checkup and cleaning, so we can keep an eye on your smile and also remove all plaque from the surfaces of your teeth. If you have any questions about the DIAGNOdent system, or if you would like to set up your next checkup, then contact our team today.
DO YOU HAVE QUESTIONS ABOUT OUR DIAGNOSTIC TECHNOLOGY?
Our team wants to identify possible areas of concern, so we can offer treatment before you develop painful symptoms. For more information on our approach preventive dental care, then call the office of James Stewart, DDS in Livonia, MI, today at (734) 425-4400.