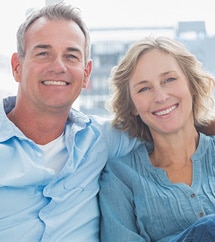 TMJ Therapy
Headaches, migraines, earaches, and irritating conditions like a popping jaw, can be caused by misalignment of the jaw joints, a condition called TMJ disorder. TMJ is the acronym for temporomandibular joints, the two joints by which the jaw is attached to the skull. Injury, stress, heredity, tooth wear, crooked teeth, and other factors can cause the jaw joints to become unbalanced, or misaligned.
Why TMJ Causes Pain
Your temporomandibular joints are surrounded by a complex network of muscles and nerves. When the joints aren't properly aligned, additional stress is placed on this system, causing pain. The pain may affect the head, neck, mouth, and jaw – or it can be referred pain felt in the shoulders or lower back. Some people even experience tingling in their hands and feet as a result of TMJ disorder.
Treatment for TMJ Disorder
During an evaluation, Dr. Stewart can determine if your jaws are misaligned. Physical manipulation of the jaw, a discussion of your symptoms, and an evaluation of tooth wear all contribute to a diagnosis of TMJ disorder. If you have this condition, Dr. Stewart will recommend an oral appliance to position your jaw into proper alignment and relieve stress on your jaw joints.
Bruxism
Many people with TMJ disorder also grind their teeth. Stressed muscles and nerves cause the jaw to move during sleep, grinding and clenching the teeth together, resulting in more tooth wear and more pain. We call this condition bruxism. The oral appliance Dr. Stewart recommends for TMJ therapy prevents grinding and clenching during sleep, thus solving two problems with one treatment.
Schedule Your Appointment Today!
At the offices of James R. Stewart, Jr., DDS, PC, we look forward to providing you with comprehensive dental services for optimal oral health. We look forward to creating lasting, caring relationships with each of our patients for pleasant visits and lifelong satisfaction. Please contact us at your earliest convenience to schedule an appointment with Dr. Stewart at our Livonia office located on Middlebelt Road. We proudly serve patients of all ages from Livonia, Farmington Hills, Farmington, Plymouth, Northville, Novi, Dearborn Heights, Dearborn, Garden City, Westland, Redford, and surrounding communities.