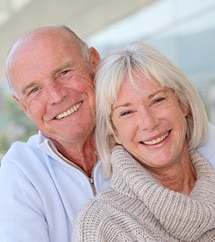 Livonia, MI, Senior Care
Understanding that dental needs change as individuals age is of the utmost importance. That is why we are committed to providing gentle, compassionate dental care to our elderly patients. Dr. Stewart and our team will cater to your unique needs by providing plenty of time during your visit for you to ask questions, by working closely with you when deciding upon necessary treatment, and of course, by providing you with the best dental care possible. We hope you will always feel comfortable enough to voice your thoughts and concerns, and that each visit results in satisfaction.
What Is Your Approach to Senior Care?
We realize that our senior care patients may be facing issues that are specific to their age group, and because we regard our patients as family we are dedicated to offering senior care that extends beyond the usual dental visit. Not only do we offer a high level of expertise, but we treat everyone with patience and compassion. Our senior patients can expect:
Oral sedation for a more comfortable experience
Less invasive procedures for fast recovery time
Advanced educational tools for the comprehension of oral care, and an understanding of upcoming procedures
What Are the Challenges to Senior Care?
Certain medications may result in side effects, such as dry mouth, subsequent tooth decay, or tooth discoloration. A patient with arthritis may not have the range of motion to keep up optimal oral hygiene at home; or patients may require restorative dentistry services that have not been addressed for quite some time. The following challenges may make oral hygiene more difficult, but we are happy to approach these challenges with a positive attitude so our patients feel empowered:
Prosthetics: If you are missing teeth or already have prosthetics in place, Dr. Stewart has a special interest in optimizing the fit and function of these pieces. He will examine your dentures to ensure they fit and look great, and he will discuss replacements with you when the time comes. Dentures typically need replacing or readjustment once every seven to ten years. In addition, if you are looking for a more secure fit, implant-retained dentures and mini-implants eliminate slippage and the need for adhesives.
Dry mouth: Whether you experience dry mouth as a result of medication or illness, choosing hard candies to stimulate salivation can wreak havoc on your oral health. To avoid tooth decay, gum disease, and the resulting restorative dental work that often follows, Dr. Stewart will explain the best way to handle dry mouth. You can typically improve moisture through healthy eating habits, drinking sufficient water, chewing sugar-free gum, brushing with fluoridated toothpaste, and using mouth rinse.
Limited oral hygiene: You may want to take better care of your teeth, but simply cannot, especially if you're having difficulty holding your toothbrush or dental floss. In such cases, Dr. Stewart will make things easier by suggest options such as a power toothbrush or other devices. Additionally, attending bi-annual visits is essential to keeping your teeth clean and healthy.
Schedule Your Appointment Today!
At the offices of James R. Stewart, Jr., DDS, PC, we look forward to providing you with comprehensive dental services for optimal oral health. We look forward to creating lasting, caring relationships with each of our patients for pleasant visits and lifelong satisfaction. Please contact us at your earliest convenience to schedule an appointment with Dr. Stewart at our Livonia office located on Middlebelt Road. We proudly serve patients of all ages from Livonia, Farmington Hills, Farmington, Plymouth, Northville, Novi, Dearborn Heights, Dearborn, Garden City, Westland, Redford, and surrounding communities.