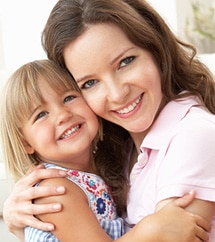 Children's Dentistry
Children are precious, innocent, and very special patients! With young patients, Dr. Stewart and our team have the opportunity to provide a positive and fun dental experience so your child does not feel fear or stress when visiting our office. While we teach them the importance of taking care of their teeth, gums, and their whole mouth – because the habits they learn now affect their oral health throughout their lives – and while we take children's dentistry seriously, we know they learn best when having fun!
The Happy Visit
Dr. Stewart supports the American Dental Association's recommendation that children attend a first dental visit by the age of one. The first visit – we call it the Happy Visit – can simply be coming along for a parent's checkup. Let us know if you plan to bring your little one and we'll set aside time to take a quick "happy" peek inside your child's mouth. Dr. Stewart will also ask if you have any concerns about your child's oral health or development.
Regular Dental Care
Once a child's teeth start to erupt, they should attend regular six-month checkups. At these short visits, your kiddo can take a ride in the dental chair, learn about our dental tools, and start to become familiar with our team members. Dr. Stewart will check your child's mouth, explain how you should care for your child's teeth at home, and answer your questions at each of these visits.
As your baby grows into a toddler, preschooler, and elementary school student, we will help you understand the different phases of tooth development and homecare. Around age three to five, kids should begin six-month cleaning visits with our hygienist. Dr. Stewart often suggests dental sealants and fluoride supplements to protect young teeth against tooth decay. He is also adamant that children who play sports wear an athletic mouth guard to protect their teeth from injury. (Adults should wear one, too!)
Special Dental Care
If at any time Dr. Stewart notices developmental problems, he'll recommend appropriate treatment. For instance, some elementary-aged kids need phase one orthodontics to prepare their mouths for proper tooth development. Dr. Stewart will recommend a local orthodontist and write a referral, if needed.
Your Family Dentist
We love kids! Whether you're expecting your first child or have a houseful of teenagers, Dr. Stewart and our team want to get to know your children. You can rest assured that as our patient, your child's oral health is in good hands!
Schedule Your Appointment Today!
At the offices of James R. Stewart, Jr., DDS, PC, we look forward to providing you with comprehensive dental services for optimal oral health. We look forward to creating lasting, caring relationships with each of our patients for pleasant visits and lifelong satisfaction. Please contact us at your earliest convenience to schedule an appointment with Dr. Stewart at our Livonia office located on Middlebelt Road. We proudly serve patients of all ages from Livonia, Farmington Hills, Farmington, Plymouth, Northville, Novi, Dearborn Heights, Dearborn, Garden City, Westland, Redford, and surrounding communities.