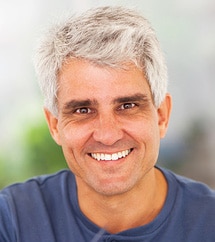 Root Canal in Livonia, MI
The second you hear the term "root canal" you may have the urge to flee – however, our team is here to assure you that root canal therapy may take slightly longer, but causes no more discomfort than a dental filling. Choosing root canal therapy can save the health of your tooth, and surrounding teeth. In the long run, you will save time, discomfort, and money. Ask us all of your questions about root canal therapy. We are happy to explain each detail to diminish your anxiety, while restoring your oral health.
What Is Root Canal Therapy?
The root canal of your tooth houses the dental pulp which consists of live tissue, nerves, and blood vessels through which sensation, oxygen, blood, and nutrients flow. The pulp of your tooth is often referred to as the 'nerve' of your tooth. Root canal therapy is a procedure during which Dr. Stewart removes the infected pulp and tooth decay from within the root canals of your teeth to save the tooth and stop the infection/decay from spreading.
What Can I Expect?
To determine whether or not root canal therapy can save your tooth, Dr. Stewart will utilize dental X-rays, and DIAGNOdent, advanced hand-held technology, to examine the extent of damage to your tooth. If a root canal is in order, Dr. Stewart will begin by numbing the tooth and surrounding area with a local anesthetic. Next, he will drill a hole into your tooth so he can access the pulp, then carefully clean away the infection.
To restore the tooth, he will fill the clean and disinfected root canal with a rubber-like material called gutta percha, then seal the tooth with a dental filling.  If a crown is required for further protection, Dr. Stewart  will prep your tooth, then take impressions that will be utilized by the dental lab technician to fabricate a dental crown. In the meantime, Dr. Stewart will fit you with a temporary until the permanent prosthetic is ready.  At a follow-up appointment, Dr. Stewart will place the crown,  and once again you will have a comfortable bite, and a healthy smile!
What Are the Benefits of Root Canal Therapy?
Root canal therapy is often the last course of action for an infected tooth before extraction. We always prefer to restore your natural tooth structure rather than resort to prosthetics, so rest assured that we will make the most conservative diagnoses, and plan the most efficient treatment for each of our patients. If you're still feeling anxious about root canal therapy, consider the benefits:
A root canal removes infection that can abscess, and spread to other parts of your mouth, which may lead to future treatments and procedures.
Root canal therapy relieves pain.
A root canal restores the function and beauty of your tooth.
Tooth extraction means a missing tooth, which will require a dental implant or other tooth-replacement prosthetic, leading to more treatments and higher costs.
Schedule Your Appointment Today!
At the offices of James R. Stewart, Jr., DDS, PC, we look forward to providing you with comprehensive dental services for optimal oral health. We look forward to creating lasting, caring relationships with each of our patients for pleasant visits and lifelong satisfaction. Please contact us at your earliest convenience to schedule an appointment with Dr. Stewart at our Livonia office located on Middlebelt Road. We proudly serve patients of all ages from Livonia, Farmington Hills, Farmington, Plymouth, Northville, Novi, Dearborn Heights, Dearborn, Garden City, Westland, Redford, and surrounding communities.