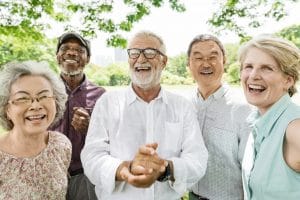 At each stage of our life, we need different levels of care for our smile. As a child, the focus is on making sure teeth erupt and develop properly, and that cavities stay at bay. As we grow older, we focus on gum health and other common issues. But what about senior care? In today's blog, your Livonia, MI, dentist discusses our approach to senior dentistry.
Ensuring Our Patients' Comfort
First, we want to make sure you understand the importance of any procedures we need to provide. After we carefully examine your smile with advanced digital technology, we can answer any questions you may have, and even provide educational tools, such as our Orasphere videos, about any treatment options. Our technology helps ensure shorter treatments and faster recovery times, and we also have oral sedation available to ensure seniors remain comfortable and relaxed throughout the proceedings, with little to no memory of them afterward.
Addressing Tooth Loss
As we grow older, multiple factors could lead to the loss of our natural teeth, including the advanced stage of gum disease known as periodontitis. To ensure the continued ability to eat a variety of foods, speak clearly, and maintain your facial structure, we can replace the missing teeth with lifelike prosthetics. For example, we have traditional crown-secured bridges, and removable full or partial dentures. For greater security and to prevent changes to your facial structure, we can also provide dental implants for individual tooth replacement and to secure a partial or full denture.
Combatting Dry Mouth
Advanced age, medication, and chronic illness are all factors behind dry mouth. Without saliva, bacteria can more easily create plaque and break down the enamel protecting the teeth from cavities. The resulting inflammation in the gums could also increase the risk of gingivitis and gum disease. Our team ahs experience in working with senior patients to combat the cases of dry mouth, keeping smiles healthy with fluoride toothpastes, sugar-free gum, better hydration, and even special mouth rinses.
Maintaining Good Oral health
Due to mobility issues in advanced age, many of our patients could have trouble properly brushing and flossing, a complication linked to poor oral health. We can help by suggesting eager to use electric toothbrushes, bi annual visits, and other oral hygiene tips. If you have any questions, or if you would like to schedule a consultation, then contact our team today. Remember, you can use your remaining 2020 dental insurance benefits before they expire!
DO YOU HAVE QUESTIONS ABOUT SENIOR CARE?
We want to help patients of all ages enjoy optimal oral health. For more information on the care we offer for our older patients, then call the office of James Stewart, DDS in Livonia, MI, today at (734) 425-4400.