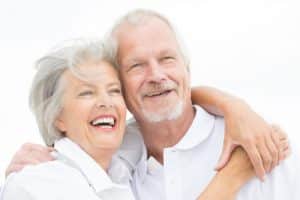 We often talk about dental care for adults and children, but what about seniors? As we grow older, the risk factors for a number of oral health concerns can increase, such as tooth loss. We can provide a gentle and caring approach to senior care, happily addressing any questions or concerns our patients may have about caring for smiles, even with limited mobility. Do you have questions about senior care?
Frequently Asked Questions About Senior Care
Question: Do seniors require checkups and cleanings?
Answer: Yes! Just like adults, kids, and teens, senior patients also need to have their teeth examined and cleaned every six months. During the exam, the doctor can look for risk factors that mainly impact older patients. In addition, the dental cleaning can help protect patients from gum disease and tooth decay,
Question: Is dry mouth an oral health concern?
Answer: Yes! In seniors, dry mouth can occur as a result of certain medications or chronic illness. Dry mouth means the body isn't producing the normal amount of saliva. Since we use saliva to help remove food particles and bacteria, the bacteria can then break down particles, increasing oral acidity and plaque buildup. The risk of tooth decay then increases.
Question: Do you offer sedation?
Answer: We do! We offer sedation options to help patients feel comfortable and relaxed during treatment. These can help seniors as well as patients with mild to severe dental anxiety.
Question: Can you address tooth loss?
Answer: We can offer treatment to address the cases of tooth loss, and recommend prosthetics to replace them. Patients can then enjoy a full and beautiful smile again. If you have any questions about our approach to senior care, then please contact our office today.
Do You Need to See the Dentist?
At James Stewart, DDS, our team can provide thorough and gentle senior oral care. We serve patients of all ages from Livonia, MI, as well as Farmington Hills, Farmington, Plymouth, Northville, Novi, Dearborn Heights, Dearborn, Garden City, Westland, Redford, and the surrounding communities. To schedule a consultation, call our office today at (734) 425-4400.