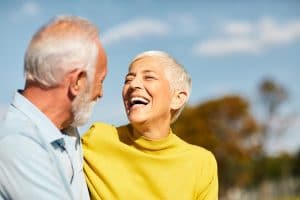 At each stage of life, we have unique dental needs. After all, kids will need different forms of oral healthcare as babies and toddlers, than they will as teens and adults. But what about seniors? In today's blog, your Livonia, MI, dentist will look at how we address the unique challenges of helping our older patients continue to enjoy strong and beautiful smiles.
Our Approach to Treating Older Patients
We always offer our visitors a patient and compassionate approach to dental care, helping them feel relaxed and enjoy their time in the office. We also have experience in treating people of all ages. When possible, we ways opt for minimally-invasive treatment options to reduce recovery times. To address dental anxiety and ensure comfort during more extensive treatment options, we often recommend oral sedation to help you enter a calm and relaxed state. Our team is also ready to walk you through each step of the procedure, and help you gain a better understanding of your upcoming treatments.
Daily Care
Many people develop dry mouth as a result of a chronic illness or due to certain medications. In addition to increasing the risk of bad breath, dry mouth is also linked to a higher risk of tooth decay and gum disease, which could require extensive treatment to address. However, we can discuss various strategies to combat dry mouth, such as chewing sugar-free gum, staying hydrated, improving your eating habits, and brushing and flossing properly. If brushing and flossing has become more difficult due to limited mobility and other factors, we can discuss other strategies, such as water flossers, electric toothbrushes, and attending checkup and cleaning visits every few months so we can keep a close eye on your oral health.
Replacing Lost Teeth
As we grow older, gum disease and other factors could increase the risk of tooth loss. Along with missing teeth comes difficulty eating, an aged appearance, and even trouble speaking clearly. Fortunately, we have experience with implant dentures, such as All-On-4®, which help restore function, health, and beauty to your smile, and provide a prosthetic that stimulates jawbone growth to preserve your facial structure. If you have any questions about improving your homecare routine, or about addressing issues like dry mouth, tooth decay, gum disease, or tooth loss, the contact our team today. We want to help you enjoy your best possible smile for many years to come!
DO YOU HAVE QUESTIONS ABOUT SENIOR DENTISTRY?
We want to help your entire family enjoy better oral health, from the youngest member of your family to the oldest. For more information on our approach family dental care, then call the office of James Stewart, DDS in Livonia, MI, today at (734) 425-4400.