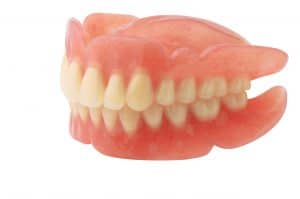 In our last blog, we explained how we address advanced cases of tooth loss with a partial denture. But what if you've lost a majority of your teeth, or possibly all of them? In these scenarios, your Livonia, MI, dentist may suggest a full denture. But will your smile need a removable or fixed prosthetic?
What Happens When We Lose a Majority of Our Teeth?
The body regularly sends doses of calcium and phosphorus, among other nutrients, to the jawbone around our tooth roots. These nutrients help preserve the tissue, supporting both our smile and our overall facial structure. However, when we lose teeth, the body stops sending doses of these nutrients. Eventually the resulting loss of mass and density in the jawbone means further tooth loss and for some, a much older appearance. Along with these issues comes difficulty eating anything other than soft foods, and embarrassment reading our appears. Others even have trouble speaking clearly. To avoid these serious impacts on our quality of life, your Livonia dentist recommends replacing missing teeth with a dental prosthetic.
Removable Dentures
The most common form of denture, a removable option contains an entire row of new teeth set in a base made from acrylic, which is designed to mimic the appearance of gum tissue. Care is taken to ensure the teeth look natural and that they can withstand and absorb daily bite forces and pressure. They will be held in place with natural suction, or possibly the assistance of a special adhesive. As the jaw ridge changes shape over time, they will need to replaced, which is about every 5 to 10 years. They will need to be removed for soaking and cleaning regularly.
Fixed Dentures
Fixed dentures offer greater stability. Instead of relying on suction, we insert between six and eight dental implants per arch. For others, we can use as little as four or even complete your implant-secured prosthetic in a single visit! Since the denture is attached with dental implants, they never slip when you eat or speak, and you don't need to take them out for cleaning or soaking. In addition, the dental implant stimulates the growth of jawbone tissue, which means the jaw ridge doesn't change shape and your new prosthetic could last for decades, possibly even a lifetime! If you have any questions about dentures, or about addressing your tooth loss, then please contact our team today.
DO YOU HAVE QUESTIONS ABOUT TREATING TOOTH LOSS?
Our team would like to help you enjoy a full and beautiful smile with a custom prosthetic. For more information on our complete prosthetics, or to schedule a consultation, call the office of James Stewart, DDS in Livonia, MI, today at (734) 425-4400.