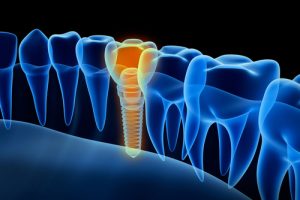 Last week, we took a look at dentures and how they can be used to address advanced tooth loss. But what if you are missing one tooth or just a small number? In these cases, we may be able to replace the teeth using an advanced and strong option known as dental implants. How do dental implant replace missing teeth?
Try Our Quiz on Replacing Missing Teeth with Dental Implants
True or False: Tooth loss can lead to an aged appearance.
True or False: Implants act like new tooth roots.
True or False: They can last a lifetime.
Answer Key
True. When you lose a tooth, the body registers the lack of a tooth root and as a result, stops supplying the jaw around the lost tooth with doses of calcium and phosphorus. Without these nutrients, the jawbone tissue can begin to break down, deteriorating and leading to an aged appearance in the process (as well as further tooth loss).
True. The implant is made from titanium, a biocompatible material that can bond with the jawbone like a natural tooth root. We insert the implant into the jawbone, where the bonding process, known as osseointegration, takes place over a period of three to four months. We then attach the abutment that holds the restoration in place, competing your new tooth. Since the body sees them as new roots, the flow of calcium and phosphorus resumes, safeguarding your jawbone and your appearance.
True. Since they act as natural tooth roots and prevent the jawbone from dissolving, they can last for decades or possibly even a lifetime. If you have any questions about dental implants or if you would like to schedule a visit to address your tooth loss, then please contact our office today.
Interested in Dental Implants?
At James Stewart, DDS, we can provide replacement teeth that can potentially last a lifetime. We serve patients of all ages from Livonia, MI, as well as Farmington Hills, Farmington, Plymouth, Northville, Novi, Dearborn Heights, Dearborn, Garden City, Westland, Redford, and the surrounding communities. To schedule a consultation, call our office today at (734) 425-4400.