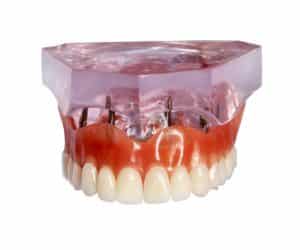 Advanced tooth loss can mean serious complications for the health and appearance of your smile. In addition, this also means replacing these lost teeth will require more than just a single tooth dental implant or a dental bridge. Fortunately, we have two options for providing a full set of dentures. How do implant and removable dentures differ?
The Dangers Posed by Tooth Loss
When you lose multiple teeth, the most obvious consequence is the change to your appearance. The gaps in your smile can lead to embarrassment, but also a greater risk of further tooth loss and a prematurely aged appearance to the loss of jawbone density. Other complications related to tooth loss include poor nutritional intake due to the inability to eat solid foods, as well as trouble communicating.
Removable Dentures
The most common form of denture is removable. We take detailed impressions of your jaw and use them to design and create the prosthetic. The prosthetic contains a full row of replacement teeth set in an acrylic base that looks like natural gum tissue. The new teeth are held in place with natural suction and can be removed for soaking and cleaning. They tend to last between five and ten years, requiring replacement as the jaw changes shape.
Implant-Retained Dentures
Instead of relying on suction, we instead place between six and eight implant posts per jaw (or in some cases, as little as four). Once they bond with the jawbone and the placement area heals, we attach the prosthetic. The denture is fixed in place and you will acre for it as you would natural teeth. The implants also stimulate jawbone growth, preventing loss of bone tissue and ensuring your new teeth can last for decades or possibly even a lifetime.
Do You Suffer From Tooth Loss?
At James Stewart, DDS, we can use dentures to help you enjoy a full smile again. We serve patients of all ages from Livonia, MI, as well as Farmington Hills, Farmington, Plymouth, Northville, Novi, Dearborn Heights, Dearborn, Garden City, Westland, Redford, and the surrounding communities. To schedule a consultation, call our office today at (734) 425-4400.