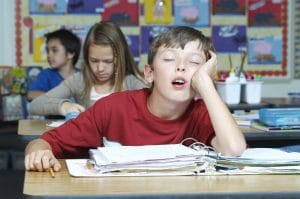 We need sleep to stay alert and function during the day, whether we're 4 or 40. Which means when breathing obstruction and other issues prevent children from obtaining the rest they need, they tend to do poorly in school or even miss important emotional milestones. We're looking at indicators of poor child sleep health and discussing when families should bring their little ones to see their Livonia, MI, dentist.
Signs of Poor Sleep
If your children appears sleepy during the day and have trouble staying awake at home or in class, this could mean daytime exhaustion as a result of poor rest the night before. Other children may become moody and irritable, lashing out or having tantrums. You may notice they snore loudly or have shallow breathing. Others may stop breathing for brief periods, talk or walk during sleep, have trouble going to bed, and have difficulties waking up. Some may be restless, kicking or moving frequently while resting. If you think one or more of the these possible warning signs occurs with your child, then you should let us know.
The Dangers of Ignoring Childhood Sleep Difficulties
The issues with a child's jaw and oral structures that cause breathing obstructions and sleeping disorders may lead to long-term problems, such as poor facial structure, an increased risk of sleep apnea, and dental misalignment. These issues will need to be treated with extensive solutions. As your child's performance in school continues to slip, he or she could fall behind and possibly be misdiagnosed with ADD or ADHD. Ignoring their poor sleep habits leads to serious problems and a negative impact on overall quality of life.
Correcting Poor Sleep (and Other Issues) with Orthotropics
First, visit our website and fill out our Child Sleep Health Questionnaire, which asks a series of questions to gauge how your little one rests each night and behaves during the day. We use these results to help with the diagnostic process, seeing if your little one benefits from treatment. If so, then we may prescribe an orthotropic appliance. The device will be worn each night and fits much like a mouthguard. However, the device is designed to reposition the jaw to ensure easy breathing, while also guiding the growth and development of the jaw and oral tissues, reducing the risk of further problems down the road. If you have any questions, please feel free to contact our team.
Have You Taken Our Questionnaire?
When you visit our website, be sure to take our questionnaire, as this information helps with the diagnostic and treatment process. James Stewart, DDS, and our team serve patients from Garden City, Westland, Redford, MI and the surrounding communities. To schedule a consultation, call our office today at (734) 425-4400.