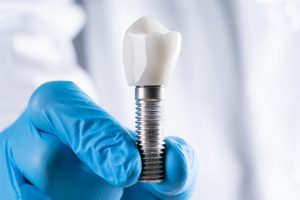 A dental implant offers a lifelike tooth replacement option, one that could last for decades or possibly a lifetime. In comparison, traditional bridges or dentures may need replacement every five years. But what makes them such a sturdy and durable tooth replacement? In today's blog, your Livonia, MI, dentist will look at the three major parts of a dental implant.
Inserting the Biocompatible Post
First, how do they last so much longer than traditional bridges or dentures? The key is the implant post itself. A small, screw-like device, the post is made from titanium. A biocompatible material, the body accepts the post as a new root. The process of bonding between the post and the jaw is known as osseointegration. This stimulates the growth of bone tissue, preventing the loss of mass and density that typically follows tooth loss. As a result, your post acts as a new root and can last for decades, possibly a lifetime. In comparison, bridges and dentures rely on clasps, suction, or crowns, which doesn't halt the slow loss of jawbone mass and density and as a result, they need replacement when the jaw ridge changes shape.
The Abutment and Restoration
What about the part you see when you smile? Once osseointegration occurs, we will attach an abutment to the post. The abutment is then used to secure a crown. The crown will be created from durable material, such as ceramic, which absorbs daily bite forces and can also be color matched to blend with the smile. The result is a lifelike restoration that also provides a dependable and durable chewing surface. Your new tooth will look great!
Prosthetic Options
But what if you have a more substantial cases of tooth loss? In these scenarios, we could use two or three implants to support a bridge, or between four and eight per arch to secure a full set of dentures. We also have All-On-Four and Mini options for those who have lost jawbone mass and density. We insert the new posts, attach abutments, and then affix the finished prosthetic, which has been custom-made to ensure proper bite balance and a lifelike appearance. The fixed denture or bridge will never slip when you eat or speak, and doesn't need to be removed for cleaning or soaking. Instead, your new smile is ready to provide decades of tooth replacement, possibly a lifetime. If you have any questions, then please let us know!
Have You Lost a Tooth?
Our team wants to help you obtain a full smile, one that looks completely natural. To learn more about addressing your tooth loss, then call James Stewart, DDS, dental implant office in Livonia, MI, at (734) 425-4400. We also serve the residents of Farmington, Plymouth, Dearborn Heights, and all surrounding communities.