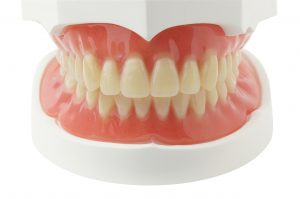 Our last blog focused on partial dentures for advanced tooth loss. But what about severe tooth loss? For smiles missing most or all of their teeth, a complete prosthetic is necessary. In today's blog, your Livonia, MI, dentist will explain how we craft and secure a full set of dentures, and ensure they provide a lifelike appearance.
How Full Tooth Loss Harms Your Oral Health
When you lose an overwhelming majority of your teeth, or all of them, this could impact the balance of your smile, leading to painful aches and symptoms related to TMJ disorder or bruxism. You could also be severely limited on what you can eat, depriving your body of not only your favorite dishes, but essential nutrients too. You may also encounter trouble speaking clearly as well. The lack of tooth roots means the body will suspend the flow of key nutrients to the jawbone, causing the bone tissue to break down with time. The result could be sunken cheeks, ptotic chins, and over signs of premature aging.
Creating a Full Set of Dentures
To create a full set of dentures, we will start by addressing any underlying health issues. After all, the presence of untreated gum disease could complicate tooth replacement, especially if you want implant-secured prosthetics. We next take detailed impressions and images using digital technology. The images enable us to design and craft your prosthetic in a dental lab setting, ensuring a comfortable fit and a lifelike appearance. The prosthetic will consist of a full row of teeth crafted from materials that absorb daily bite forces and look lifelike too. We will set them in a base made from acrylic, which mimics the appearance of your gum tissues.
Removable and Implant-Secured
A removable option will use suction or possibly an adhesive to remain in place. You will need to remove it for cleaning and soaking, and the prosthetic will need replacement as the jaw ridge changes shape due to the suspension of key nutrients to the jawbone. However, with dental implants we insert several titanium screw-like posts into the jaw. They bond with the bone tissue like natural roots, so the flow of nutrients resumes and the jaw and facial structure are preserved. We then attach a denture, which is fixed in place and never need to be removed for cleaning. If you have any questions about your options for addressing total tooth loss, then contact our team today. We want you to enjoy a full smile again!
Ready for a Custom Prosthetic?
Our team wants to help you maintain a full and beautiful smile with a prosthetic. For more information on our dentures and implant options, then call the office of James Stewart, DDS in Livonia, MI, today at (734) 425-4400.