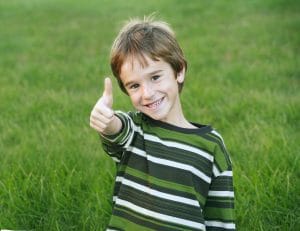 Children's dentistry often focuses on preventing issues like tooth decay and cavities through good hygiene education and preventive dental efforts. In some cases, it may also include customized treatment to correct the growth and development of teeth and oral structures, such as with orthodontic treatment. However, discrepancies in oral development are often related to issues with facial development, and for many children, orthotropic treatment offers the most benefits when it comes to improving their overall health. Today, we look at a few of the lifelong benefits that children can enjoy thanks to orthotropics.
Straighter Smiles
The shape of a child's jawbone is influence by many factors, such as the spacing and development of their upper oral structures. Orthotropics focuses on correcting such factors with the use of custom-designed appliances, such as expanding the palate to allow all of the primary and permanent teeth to grow in comfortably and in properly alignment.
Fewer Bite Problems
By ensuring a straight, symmetrical jawbone and teeth alignment, orthotropics also helps children alleviate or avoid bite problems. For instance, bruxism (chronic teeth-grinding) can affect children with imbalanced bites and lead to severe, increasingly worse tooth damage. TMJ disorder can also develop in the jaw joints as the imbalance continues.
Better Sleep
In addition to their dental health, children's quality of sleep can also be affected by abnormal oral and facial structures. For example, sleep apnea results when oral and throat tissues collapse into the airway, which often results from abnormal facial development. With orthotropics treatment, children have less risk of developing sleep apnea, or a better chance of treating the problem if they already have it.
Find Out if Your Child Can Benefit from Orthotropics
With custom orthotropic treatment, your child can enjoy better oral and overall health in a number of ways. To learn more, schedule a consultation by calling the office of James Stewart, DDS in Livonia, MI, today at (734) 425-4400. We also proudly serve patients who live in Farmington Hills, Farmington, Plymouth, Northville, Novi, Dearborn Heights, Dearborn, Garden City, Westland, Redford, and all surrounding communities.