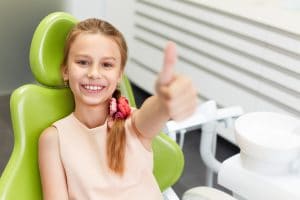 Many parents wonder if they're children will need orthodontic treatment at some point, and whether or not that treatment will prove successful in the long run. However, sometimes, the development of a child's oral and facial structures requires more comprehensive correction than orthodontic braces can provide. In such cases, your child's dentist may suggest orthotropics, which focuses on correcting not just tooth alignment, but also the proper growth and development of your child's jaw, oral, and facial structures. To help you determine if orthotropics is a good idea, your child's dentist will perform a thorough, highly detailed examination before consulting with you and your child about the treatment.
The Benefits of Orthotropics
Orthodontic treatment is highly successful in realigning crooked teeth, but many children who undergo orthodontics can experience a relapse later in life. As a result, they may have to wear braces or orthodontic aligners again as teens or adults to correct the problem again. By contrast, orthotropics corrects the underlying issues behind bite misalignment, such as improper alignment between the upper and lower jaws, to avoid relapses as well as other oral health issues in the future.
One of the main goals of orthotropics is improving your child's bite function, much like orthodontics. In addition, though, orthotropics also ensures proper development of your child's airway, reducing the risks of obstructive sleep apnea (OSA) later in life. With the numerous health risks associated with OSA, lowering your child's risks of the disorder helps improve your child's overall quality of life.
Ask Your Dentist About Orthotropic Treatment
For more comprehensive results in correcting your child's oral and facial structures, ask your dentist if orthotropics is the right treatment option. To learn more about orthotropics, schedule a consultation by calling the office of James Stewart, DDS in Livonia, MI, today at (734) 425-4400. We also proudly serve patients who live in Farmington Hills, Farmington, Plymouth, Northville, Novi, Dearborn Heights, Dearborn, Garden City, Westland, Redford, and all surrounding communities.