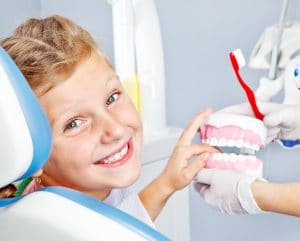 While there are several different approaches to traditional orthodontic treatment, the goal is always the same: to correct bite misalignments, preferably early, to improve bite development and function. Likewise, there are several different approaches to orthotropics; however, the goals are more complex than just correcting bite alignment. As a child's oral and facial structures grow, their development can be affected by numerous factors. Orthotropics is the practice of thoroughly analyzing all of these factors to ensure that your child's teeth, jawbone, and oral structures are not only properly aligned, but also perfectly proportionate to each other.
How Is Orthotropics Different than Orthodontics?
When performed in the early years of childhood, orthodontic treatment may be divided into two separate treatment plans. The first phase focuses on correcting any issues that are affecting tooth and jaw development, and the second phase focuses on ensuring that all permanent teeth are properly aligned. Orthotropics, however, also considers how the alignment of the upper and lower teeth relate to the nose, cheeks, and other facial features, and how this can affect facial appearance, airway function, and more.
The Lifelong Benefits of Orthotropic Treatment
In most cases, treatment involves carefully guiding the upper front teeth into more ideal positions according to your child's facial structures. Then, the dentist will focus on correcting the lower front teeth and jaw to align properly with the newly positioned upper teeth. In addition to ensuring proper bite alignment, orthotropics also improves the development of related oral structures. This helps reduce future risks of sleep breathing disorders, such as sleep apnea, and bite problems, such as bruxism and TMJ disorder.
Learn More About the Value of Orthotropics
As a more comprehensive approach to ensuring the proper development of your child's oral and facial structures, orthotropics can have several benefits for your child's overall quality of life. To learn more, schedule a consultation by calling the office of James Stewart, DDS in Livonia, MI, today at (734) 425-4400. We also proudly serve patients who live in Farmington Hills, Farmington, Plymouth, Northville, Novi, Dearborn Heights, Dearborn, Garden City, Westland, Redford, and all surrounding communities.