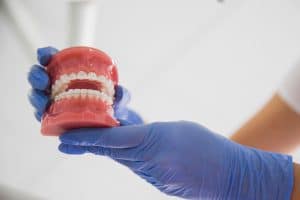 When it comes to children's dental health, alignment is most often associated with the layout of their teeth and symmetry of their jaws. However, in a more holistic sense, it also means the symmetry, growth, and development of the facial and oral structures that surround the teeth and gums. For instance, if the jawbone and/or cheeks are not symmetrical, it can affect the formation of other structures, such as the upper palate and airway. To correct all of these issues and avoid oral health complications in the future, your child's dentist may suggest orthotropics, which straightens much more than just crooked teeth.
The Goals of Orthotropic Treatment
Proper facial and oral development, as well as proper bite function, are the main focuses of orthotropics. While misaligned teeth must be corrected to avoid bite issues in the future, it is often the relationship between tooth alignment, jawbone development, and facial structure symmetry that must be corrected. Orthotropics accomplishes this with the use of custom-designed aligners that serve several purposes, including widening the upper palate and bringing upper and lower teeth in proper position.
The Lifelong Benefits
Because orthotropics focuses on total facial and oral alignment, straighter and better functioning teeth are among its many benefits. By ensuring the supportive structures are also aligned helps dramatically reduce your child's risk of experiencing orthodontic relapse as a teen or adult. It also helps reduce risks of bite issues like TMJ disorder (a jaw dysfunction) and bruxism (chronic teeth-grinding), which can develop when oral structures have to struggle to stay aligned.
Ask Us if Your Child Can Benefit from Orthotropics
With customized orthotropic treatment, your child can enjoy more than just straighter teeth, but also better alignment for all facial and oral structures. To learn more, schedule a consultation by calling the office of James Stewart, DDS in Livonia, MI, today at (734) 425-4400. We also proudly serve patients who live in Farmington Hills, Farmington, Plymouth, Northville, Novi, Dearborn Heights, Dearborn, Garden City, Westland, Redford, and all surrounding communities.