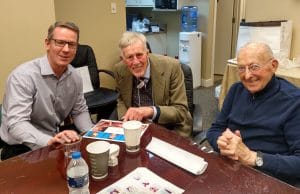 Part of our dedication to providing top-notch dental treatment to all of our patients includes learning and implementing innovative techniques such as orthotropics to improve every aspect of patients' oral health. To ensure optimal quality in every treatment plan he designs, Dr. Stewart has trained in orthotropics directly under Dr. John Mew, who developed the alternative treatment. Dr. Stewart regularly meets with Dr. Mew and Dr. John Stepanovich, one of the earliest practitioners of orthotropics, as part of an ongoing orthotropic study group.
What Is Orthotropics?
Dr. Mew developed orthotropics as a comprehensive but comfortable way to address the issues that can impact a child's facial growth and development, as well as the development of their teeth and oral structures. All of these structures are intricately connected, and when one or more develops improperly, it can lead to a host of complications for children later in life. Orthotropics utilizes a series of custom-designed aligners and appliances that ensure your child's facial and oral structures develop properly and with enough space to comfortably accommodate each other.
Correcting Young Smiles and More
Correcting facial growth issues is an important part in ensuring your child develops a straight and healthy smile, especially since tooth misalignment is often a sign of facial structures not aligning properly. However, the benefits of orthotropics also involve preventing issues such as sleep disorders that can result from improper airway development and bite issues that occur due to asymmetrical jawbone and facial structures.
Learn More About Innovative Orthotropics Treatment
At our office, we're proud to carry on Dr. Mew's and Dr. Stepanovich's legacy of providing innovative orthotropic treatment to improve the oral health and quality of life of our young patients. To learn more, schedule a consultation by calling the office of James Stewart, DDS in Livonia, MI, today at (734) 425-4400. We also proudly serve patients who live in Farmington Hills, Farmington, Plymouth, Northville, Novi, Dearborn Heights, Dearborn, Garden City, Westland, Redford, and all surrounding communities.