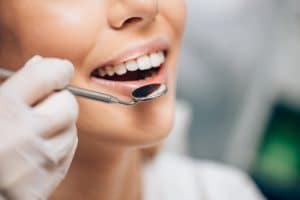 Our last blog focused on the cleaning portion of your six-month visit, explaining how removing plaque protects smiles from serious oral health issues. Today, we're going to look at the other half of these same visits: the dental exam. Your Livonia, MI, dentist will explain how a simple checkup and oral cancer screening is crucial for keeping smiles strong and healthy for years to come.
A Six-Month Exam
The American Dental Association recommends a visit for a checkup about once every six months for people of all ages, and we agree. The more often we see you, the more likely we will be able to identify developing problems in the earliest stages, often before you experience uncomfortable symptoms. After all, we would rather place a filling to treat a cavity, then a root canal to repair an infection, or a bridge to replace a tooth lost to untreated cavities or gum disease.
The Technology We Use
During the checkup, we want to be able to carefully and thoroughly examine your teeth, roots, gums, and oral structures. To offer an exam with greater precision and accuracy we will of course implement advanced technologies. With the DIAGNOdent laser, we have the chance to identify cavities in the earliest possible stages, and even spot the beginnings of demineralization, so we can then begin treatments to avoid decay altogether. We also use intraoral technology and digital x-rays to gather highly detailed photos of your smile, so we can not only offer more in-depth checkups, but also walk you through the process so you gain a better understanding of your oral health.
Screenings and Other Benefits
We also offer an oral cancer screening at least once a year, carefully looking for the warning signs of cancerous and precancerous areas. Oral cancer tends to have a high mortality rate, with half of those diagnosed in any given year succumbing to the disease within just five years. However, this is due to the fact that it is rarely caught in the early stages. But attending your six-month visits so we can regularly screen your smile greatly increases the odds of uncovering the disease early. The same goes for issues like gum disease, which could increase the risk of painful symptoms, tooth loss, and is even linked to issues like diabetes, Alzheimer's disease, and other serious health problems. A diagnosis could mean we reverse the issue in the initial inflammation stage, or offer care to manage it and protect your overall health.
DO YOU HAVE QUESTIONS ABOUT YOUR NEXT CHECKUP?
We want to keep an eye on your oral health throughout the year with periodic exams. For more information on the value of a routine dental exam, then call the office of James Stewart, DDS in Livonia, MI, today at (734) 425-4400.