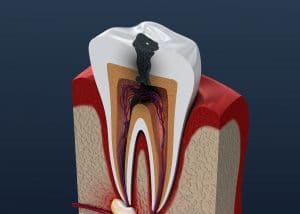 Since we're limiting care to dental emergencies only, that means we can no longer remove plaque and tartar with a routine cleaning for the time being. Which means unless you take good care of your smile from home, you could be at risk of developing tooth decay. In today's blog, your Livonia, MI, dentist explains how to keep your smile cavity-free.
What Causes A Cavity?
Cavities develop when harmful bacteria reach the inner tooth structure, know as dentin, which is very sensitive. Usually, the outer layer of enamel prevents this. But issues like poor oral hygiene and diets high in sugar could promote plaque buildup, a bacterial byproduct that coats the teeth and weakens enamel. As the protective outer layer erodes, this leads to tooth sensitivity and causes a cavity to form. Over time, the tooth decay could spread and eventually, lead to serious pain and even an infection.
When Should I Seek Emergency Treatment?
If you have persistent pain in a tooth, this could qualify as a dental emergency. We can still see patients for emergency issues, and preventing a cavity from becoming an infection could definitely mean you benefit from an emergency appointment. When you arrive, we will make sure you don't share the waiting room with others, and you'll be happy to know our team cleans and disinfects commonly touched surfaces in between each visit. After examining your smile, we can often treat a cavity with a filling or crown. If we find an infection has occurred, then a root canal could allow us to remove infected tissue and restore your smile! Remember, addressing these concerns could mean avoiding the loss of your tooth!
Common Preventive Actions
To lower your chances of developing decay or infection while staying home, you should make time to brush your teeth twice a day for two minutes. Be sure you use a toothbrush with soft bristles and a toothpaste that contains fluoride when you do. Repeat this in the evening, and also floss in between each tooth. These actions remove stray food particles, preventing the onset of serious plaque buildup, as well as weakened and eroded enamel. You also benefit from cutting back on sugary foods and drinks, which leave behind particles for bacteria to break down and consume. If you have any questions about identifying possible areas of concerns, or about how you can protect your smile from home, then contact our team today.
DO YOU HAVE QUESTIONS ABOUT TOOTH DECAY?
If you find yourself faced with a dental emergency, then please let us know so we can offer treatment. For more information on protecting smiles from cavities, or to schedule a consultation, call the office of James Stewart, DDS in Livonia, MI, today at (734) 425-4400.