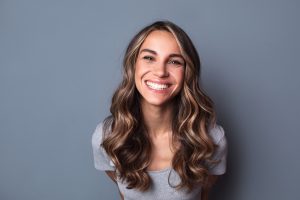 When you suffer from damaged teeth, missing teeth, or a combination of other health and cosmetic issues, then you may need more than a single filling or crown. To help transform a smile and improve overall oral health, then your Livonia, MI, dentist may suggest a full mouth reconstruction, one that offers a more attractive smile!
When Do I Need One?
Basically, if you have more than one issue with the health, function, and beauty of your smile, then you may benefit from a reconstruction. To begin, our team will carefully examine your smile with detailed digital technology. The digital x-rays and intraoral images enable us to identify the cause and assess the severity of your oral health concerns. From there, our team will discuss your smile goals and plan your treatment, selecting the combination of general, cosmetic, restorative, and prosthetic options to reconstruct your smile.
Repairing Teeth
If you have cavities, then a lifelike composite resin filling could address them in one visit. For damaged teeth or cases of advanced decay and infection, we may create and place a custom-made dental crown. Dental bonding and contouring could also correct minor damage in only one visit. Each option we choose will be custom-made specifically for your smile, which not only offers a lifelike repair, but also preserves bite balance and prevents strain on your jaw joints, limiting the risk of treating underlying cases of TMJ disorder and bruxism.
Replacing Missing Teeth
Losing your teeth could also mean serious trouble for your smile, causing poor balance, loss of jawbone density, and even misalignment or further tooth loss. For minor cases, we could place a custom-made dental bridge. A full or partial removable denture could address more substantial cases, and we could also use dental implants to support to secure a fixed denture, so you have an option that lasts for decades and never slips when you eat or speak. If you have severely damaged or infected teeth, we could even extract them and then replace them with a prosthetic or dental implant. Dental extraction could also be used to remove impacted wisdom teeth, or to take out a tooth and make room to reposition serious misalignment.
Cosmetic Care
We also have cosmetic options once we correct the major restorative issues and rebuild the base of your smile. For example, professional teeth whitening could brighten natural teeth, or we could use lifelike veneers to instantly transform the shape and color of each tooth.
We Would Like to Improve Your Smile
Our team would like to help transform the health, beauty, and function of your smile. For more information on our full mouth reconstruction, then call the office of James Stewart, DDS in Livonia, MI, today at (734) 425-4400.