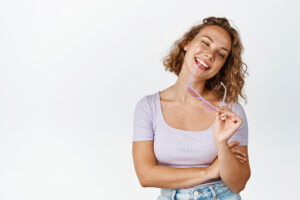 Your routinely scheduled checkup at the dental office provides many benefits. Perhaps you only think of your visit as a way of looking at the development of your smile. While the visual examination is a crucial part of this meeting, there are a host of ways that your checkup serves to benefit your smile year-round. Consistent visits means more information for your dentist when they determine your best course for care. When you catch a diagnosis early, you have greater power and flexibility in how you treat your condition.
Schedule an appointment with Dr. James Stewart, DDS in Livonia, MI for an appointment every six months at least. Your smile may also require special care that includes more frequent visits. If it has been longer than this, do not put it off any longer. Buildup of plaque and tartar can be contributing to your problem tooth decay without your knowledge. Stop bacterial development by scheduling a visit for a cleaning and examination today. While you are here, bring up any additional nagging dental concerns that you may have with your smile!
Keep Your Smile Free Of Bacterial Buildup
There simply is no way around it, you need to see a dentist on a regular schedule. No matter how thorough your home oral hygiene routine is, there are benefits to a trip to the office. One way that this is helpful is through a cleaning that is dedicated to keeping your smile free of infection.
While plaque is removable during home care, it can harden into a substance that requires an in-office solution. Our skilled technicians can rigorously clean your smile to ensure that this harmful matter cannot continue to contribute to your tooth decay. Cavities and gum recession can cause severe damage that may require restoration or even surgery to repair.
Use Your Exam As A Baseline For Cosmetic Improvement
Your regular cleaning and examination can also serve as a way to jumpstart your cosmetic dental journey. If positive smile growth is one of your New Year's resolutions, knowing where you currently stand can help. Set bold yet achievable goals in your cosmetic enhancement.
Reaching for over-the-counter cosmetic solutions for instances such as whitening could pose further problems if you do not address the initial cause of your concern. Receive a diagnosis before you attempt to treat yourself.
Beautiful And Lasting Vitality In Livonia, MI
Routine visits to the dentist for a cleaning and examination can help you to maintain a healthy smile throughout adulthood. Do not procrastinate with these appointments, as the buildup of plaque and tartar could put your teeth at risk of decay or even loss. This can also be a great occasion to plan for your cosmetic dental future. To schedule an examination and cleaning in Livonia, MI with Dr. James Stewart, DDS, call our office today at (734) 425-4400.