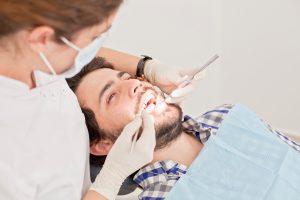 In our last blog, we discussed how a cleaning is essential for removing plaque and protecting the health of your smile. In the same visit, you will also need to have your smile examined. Using advanced digital technology, your Livonia, MI, dentist will employ a checkup to help protect your oral health from the onset of serious issues, including cavities and gum disease.
Six-Month Visits
You should make time to see us every six months. A checkup is great for kids and adults alike, and offers a chance for us to take a close look at your smile. The earlier we identify possible areas of concerns, the sooner we can offer treatment. You then avoid major complications that could cause discomfort or even require more extensive treatment down the road. We often look for issues like tooth decay, dental infection, or even wear and friction that could indicate TMJ disorder or bruxism (teeth grinding). We also watch the gums for signs of gingivitis or gum disease, and will screen for oral cancer once a year for our adult patients.
Digital Technology
To obtain a diagnosis with accuracy and precision, we will use advanced technology. For example, the DIAGNOdent system employs lasers to help identify the earliest stages of demineralization, so we treat decay before you experience discomfort to risk a dental infection. We also use digital x-rays and intraoral cameras too. The images these systems provide are very detailed and available instantly chairside, so we can walk you through the diagnostic process and help you better understand your smile and what treatments may be necessary.
Oral Cancer Screenings
Our team will also screen for oral cancer once a year as well. According to the Oral Cancer Foundation, over 53,000 people will be diagnosed each year, and half will succumb to the disease in just five years. However, this high mortality rate is directly linked to the fact that people rarely have a screening done to catch it in the early stages. The earlier we discover signs of possible cancerous and precancerous areas, the sooner you can undergo a biopsy and receive treatment!
Signs of Trouble
You should also consider seeing us in between routine visits if you experience discomfort or changes to your smile. Persistent aches and sensitivity could mean cavities in the advanced stage, ones that could lead to infection unless addressed. Gums that feel sore, look red, and bleed easily, could also need attention so we can reverse gingivitis or manage gum disease.
Do You Have Any Questions About Dental Exams?
With a routine visit every few months, we help preserve the health and stability of your smile. For more information on how our team examines and screens your smile each year, then call the office of James Stewart, DDS in Livonia, MI, today at (734) 425-4400.