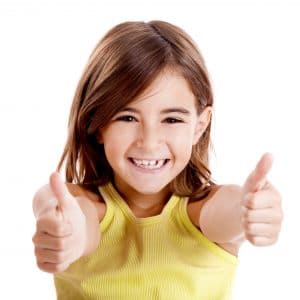 Your smile is already fully developed, so you don't need to worry about treating it as it grows. It's all done and you have gained a fairly thorough understanding of what it needs. When you're figuring out how to best rely on dental care for your child, however, things are different. Your child or teen's smile is still growing and taking shape, and your child's habits are still getting better and better. Need a little guidance? Start off with our Q's and A's (and set up a visit, too).
Questions and Answers
Question: How young do I start dental checkups and cleanings for my child? Is this dental care for little ones, too?
Answer: Of course, professional prevention is for little ones, teens, and adults! We suggest that you begin bringing your child in for visit when a first tooth arrives. We can guide you from there regarding the frequency of future visits.
Question: I think my child is already dealing with a serious misalignment. Is there anything I can do right now to make sure we get the ball rolling early on orthodontics?
Answer: Yes! Please bring your child in for a dental care visit. We provide orthotropics, which may help guide your child's smile alignment and facial development. We will discuss whether this is necessary or if another path is best to begin aligning your child's smile.
Question: What can I do while my child learns how to brush and floss correctly? I'm worried about decay as the result of human error since my child is still so young.
Answer: See us for preventive treatments offered specifically as a part of children's dental care, such as fluoride and sealants.
We Provide Gentle Comprehensive Care For Your Child's Smile
Come in for the complete care your smile needs for a smile that's healthy and that remains healthy. James Stewart, DDS, and our team serve patients from Livonia, MI, as well as Farmington Hills, Farmington, Plymouth, Northville, Novi, Dearborn Heights, Dearborn, Garden City, Westland, Redford, and the surrounding communities. To schedule a consultation, call our office today at (734) 425-4400.