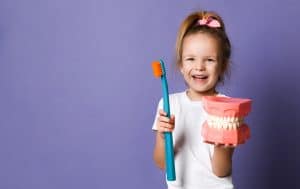 Children need routine dental care both at home and in the office, just like adults do. However, there are a few differences, and often kids need unique preventive treatments to help reduce the risk of tooth decay. In today's blog, your Livonia, MI, dentist looks at our approach to children's dentistry, from dental sealants to orthotropic appliances!
Checkups and Cleanings
Like you, children need to see us about once every six months. The first visit should happen within the first six months of the initial baby tooth's eruption. Starting from there, we will keep an eye on the smile every six months to ensure your kids continue to enjoy optimal oral health. We then identify common issues like developing misalignment, tooth decay, and gingivitis, so if needed we can administer treatment to address these issues and restore the smile. We also clean the teeth, a process that involves removing all plaque and tartar from the teeth with an ultrasonic scaling device and a manual tool. A cleaning not only lowers the risk of issues like tooth decay and gingivitis. But helps brighten teeth and fight bad breath too.
Fluoride and Dental Sealants
Our team will also administer special treatments to help prevent the onset of tooth decay. During each checkup visit, we will apply a fluoride varnish to the teeth to strengthen the outer enamel. Our team will also offer dental sealants for kids with high risk factors for tooth decay. We apply a special plastic coating to the rear teeth, which prevents food from becoming stuck between them. These teeth are difficult for kids to reach when they brush and floss, so the dental sealants help lower the risks of cavities. They stay in place for years to come and wear away naturally with time.
Orthotropic Care
Some kids often have trouble sleeping, and as a result, tend to experience issues with concentrating at school or controlling emotional outbursts or tantrums. This lack of rest could be caused by oral structures and tissues obstructing airways, preventing proper breathing at night. Many of these kids are misdiagnosed with ADD or ADHD. Fortunately, we have orthotropic care, which involves wearing a unique oral appliance to guide the growth and development of the smile and oral tissues, reducing the risk of poor sleep, misalignment, and sleep apnea in adulthood. If you have any questions about our approach to children's dentistry, then contact our team today. We're ready to see your little one!
Do You Have Questions About Children's Dental Care?
We have treatments designed to help little smiles of all ages enjoy better health, beauty, and function. For more information on our treatment options for kids, then call the office of James Stewart, DDS in Livonia, MI, today at (734) 425-4400.