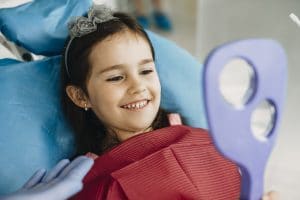 It's important to take care of your dental needs, and if you have little ones, or 'tweens and teens who insist "I can do it myself!" it is important that you set a good example for them as well. Whether you call to make the appointments, and drive them here, or text them friendly reminders while they are away at college, taking care of teeth and promoting good oral health habits will serve them well for a lifetime. When you are looking for a dental office that knows children in Livonia, MI, know that our talented staff is experienced with children's dental care.
Our Staff Knows Kids
Not every office is set up for little ones. We know that young patients can get squirmy or nervous. They may have an endless set of "Why?" questions that our staff doesn't mind answering. We can also show them how to brush and floss correctly, so they can develop tooth-cleaning habits to last a lifetime.
Young Teeth Need Extra Support
Because children do not have the long-term dental habits (or the attention spans) of adults, it helps to offer special support to developing teeth. When we see your child in consultation, we may recommend fluoride treatments (which help strengthen tooth enamel against bacteria) and a sealant, to be applied to back teeth, to help protect the chewing surfaces from developing cavities.
We Can Instruct on Brushing and Flossing
Whether your children are young and new to brushing, or they've hit the "know it all" age, we can reinforce what are you teaching at home.
We Keep An Eye Out As Things Develop
When we see your child for preventive appointments, we use dental technology like digital x-rays, to keep an eye on the growth of jawbones and their relationship to developing teeth. We can alert you to issues, and offer solutions, if there is crowding, malocclusion or other developing issues that can be treated with dental or orthodontic intervention.
Some of Our Favorite Patients Are Children
It can be convenient to have one dental office for the needs of your family, so we hope you will schedule an appointment to let us meet your child! For more information, or to schedule a consultation, call the office of James Stewart, DDS in Livonia, MI, today at (734) 425-4400.