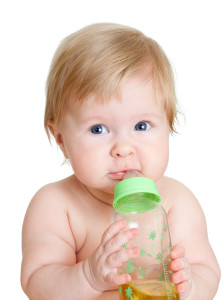 Have you ever heard of tongue thrusting or is this condition new to you? The term "tongue thrust" can be found in dental literature as far back as 1958. Tongue thrusting is also referred to as infantile swallow, reverse swallow, reverse infantile swallow, anterior resting tongue position, and anterior tongue position. It is an involuntary act that can do damage to your dentition. If you would like more information regarding tongue thrusting, contact your Livonia, MI dentist, Dr. James Stewart, who discusses tongue thrusting in today's blog.
Infantile Swallow
Infantile swallow is named so because it is apparent from birth. If a child has not yet outgrown it by the age of four, statistics indicate that it may become even more prominent, requiring therapeutic intervention to help the child develop a mature swallow. According to statistics, a high percentage of children don't outgrow it by the age of four. In fact, 67 to 95 percent of children between 5 and 8 years of age retain an infantile swallow. Of orthodontic patients throughout the U.S., 20 to 80 percent present with some form of tongue thrust.
Effects of Tongue Thrusting
For those who have developed a reverse tongue thrust action, the tongue is thrust forward against their teeth when swallowing. You swallow up to 2,000 times a day, exerting four pounds of pressure on your teeth each time you reverse swallow. This repeated force pushes teeth out of alignment causing crooked teeth, "buck teeth," or a misaligned bite. Orthodontic treatment can be unsuccessful long term because the habit of reverse tongue thrusting continues, pushing the teeth out of alignment once again.
Diagnosis
It is often difficult to diagnosis a reverse tongue thrust. It is usually noticed by pediatricians, dentists, or speech therapists when a child presents with a lisp. The good news is 70 percent of tongue thrust treatments are successful, while only 5 percent cannot be corrected for various reasons. Twenty-five percent are unsuccessful due to lack of cooperation and/or commitment.
About Dr. Stewart
James R. Stewart, Jr, DDS, PC and our compassionate staff proudly serve patients of all ages from Livonia, Farmington Hills, Plymouth, Northville, Dearborn Heights, Garden City, and all surrounding communities. To schedule an appointment, call our office today at (734) 425-4400.