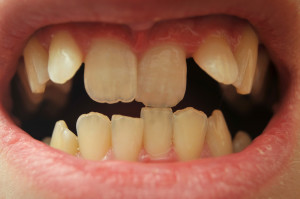 There have been many theories as to what causes crooked teeth, from ridiculous ideas such as inter-racial breeding to the consumption of soft foods. Research has even been done by examining the skulls of hunters and gatherers and comparing them with those of agriculturalists. Other research indicates that the increase in crooked teeth is nutritional in origin. Whatever the cause, three out of four children as young as five years, present with improper developing jaws and crowded teeth. Today, your Livonia, MI dentist, Dr. James Stewart talks about crooked teeth.
Can You Avoid Crooked Teeth?
In many cases crooked teeth are inherited. You may have inherited your mom's blue eyes, your dad's nose, and your grandpa's crooked teeth. However, your crooked teeth may be due to a small jaw and teeth too big to fit all thirty-two in your mouth without crowding. There are also other factors that may cause crooked teeth, however, including:
Thumb sucking: Chronic thumb sucking is known to cause crooked teeth especially if the child continues sucking as late as age six when permanent teeth begin to erupt.
Tongue thrusting: Tongue thrusting, also referred to as reverse swallowing, can result in crooked teeth and may require treatment from a speech pathologist, dentist, or other practitioner to correct the issue.
Missing teeth: The gap created by a missing tooth is often filled by adjacent teeth. The nearby teeth shift or rotate to fill the opening causing those and other teeth to become crooked. Space maintainers can eliminate this problem by keeping adjacent teeth in place and saving the space in your child's mouth for the permanent tooth.
Drawbacks
The drawbacks to having crooked teeth include the fact that:
They can cause embarrassment
They can lead to dental problems
They are difficult to clean
They can cause a misaligned bite resulting in chewing problems, cracked or broken teeth, and jaw-muscle strain.
If you or a loved one has crooked teeth that are causing any of these problems, contact your dentist for a complete evaluation and a discussion of treatment options.
About Dr. Stewart
James R. Stewart, Jr, DDS, PC and our compassionate staff proudly serve patients of all ages from Livonia, Farmington Hills, Plymouth, Northville, Dearborn Heights, Garden City, and all surrounding communities. To schedule an appointment, call our office today at (734) 425-4400.