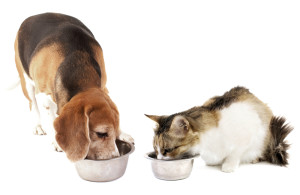 Can your pets get cavities? Have you ever wondered? Take your Livonia, MI dentist, Dr. James Stewart's fun, fact-filled, Friday quiz to find out what you know about your pet's teeth.
True or False?
T or F: Pets don't get cavities.
T or F: Pets consume over 150 pounds of sugar a year.
T or F: The pH in animal saliva is the same as that in humans.
T or F: Some people think pets get fewer cavities because they eat hard, crunchy foods.
T or F: A popular theory is that pets don't get cavities because they don't eat as much sugar as people do.
T or F: It is impossible for pets to have poor oral hygiene because they can't brush their teeth.
Answers:
False: Pets can get cavities. Some people say they don't but research shows the opposite. A research study published in the Journal of Veterinary Dentistry found that 5.3 percent of dogs over one year of age have at least one cavity.
False: The average human consumes over 150 pounds of sugar a year which contributes to tooth decay, weight gain, and other health issues.
False: The pH of animal saliva is much lower than human saliva which means their mouth is more acidic.
True: Onetheory regarding why pets don't get more cavities is that they eat hard, crunchy food that helps keep their gums healthy and their teeth clean.  The belief is that the more soft food they eat, or the people food, the more cavities they will get.
True: The most commonly held theory is that pets don't get cavities because their diets are low in sugar in comparison to the human diet.
False: According to research, pets can have poor oral hygiene. Proper oral hygiene for dogs includes: eating a meat-based dog food, chewing on a dental chew every other day, brushing their teeth every day, and routine visits to a veterinary dentist.
About Dr. Stewart
James R. Stewart, Jr, DDS, PC and our compassionate staff proudly serve patients of all ages from Livonia, Farmington Hills, Plymouth, Northville, Dearborn Heights, Garden City, and all surrounding communities. To schedule an appointment, call our office today at (734) 425-4400.