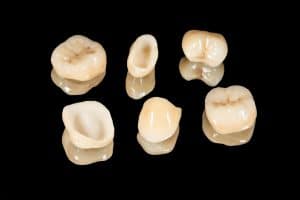 When a patient comes to us with a chipped or cracked tooth, or an advanced case of tooth decay, they may need more than a filling or dental bonding. Instead, we may prescribe a dental crown! In today's blog, your Livonia, MI, dentist will discuss the different between full and partial crowns, and explain which one might be right for you!
Lifelike Restoration
A dental crown, whether full or partial, is custom-made for your smile and created using lifelike materials. We often use porcelain because in addition to absorbing daily bite forces and pressures, this material contains stain-resistant properties and can be tinted to blend with the color of surrounding teeth. We may even whiten them to ensure they match your brightest smile. We want you to feel proud to smile, and enjoy a restoration that preserves the balance of your bite and prevents major oral health complications from occurring. You will enjoy a comfortable smile, and one you can't wait to show the world!
Full Crowns
A full covers the entire visible portion of your tooth, basically everything above the gum line. We create them by removing structure and taking detailed impressions and measurements, which we use in a dental lab to create a custom-made restoration. We could place one to address decayed or infected teeth, or repair cracked, chipped, or broken ones. We also lengthen teeth worn down due to teeth grinding, and could correct misshapen ones too. Placement has also aided in tooth replacement of those with missing teeth. For example, we can secure a dental bridge in place or restore a single tooth dental implant too.
Inlays and Onlays
Partial options, also known as inlays and onlays, will also be custom-made from lifelike porcelain material. The inlay fits in between the cusps on top of your teeth, and the only fits over the cusps. We prescribe them for situations in which a full crown isn't necessary, but a filling simply isn't enough to repair the smile. We could use them for advanced cases of tooth decay, as well as minor damage too. If you have any questions about how we repair smiles with a restoration, or if you have signs of trouble, such as a toothache or sensitivity, then please contact our team today. We want to make sure you continue to enjoy a strong, healthy, and beautiful smile in 2021.
DO YOU HAVE QUESTIONS ABOUT CUSTOM RESTORATIONS?
We know how untreated damage could lead to tooth loss, which is why we offer custom restoration options to return smiles to optimal health, function, and beauty, often in as little as two visits. For more information our restorative procedures and treatment options, then call the office of James Stewart, DDS in Livonia, MI, today at (734) 425-4400.