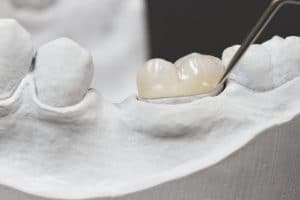 We recently discussed how fillings help us provide a lifelike solution to tooth decay. But what if your cavities, or infections, are simply too severe to address with a filling? For a more substantial restoration, we may create a partial or full crown. In today's blog, your Livonia, MI, dentist will explain how we craft and place restorations that look natural and safeguard your smile.
When Does a Smile Need Restoration?
A dental crown, whether full or partial, is designed to address issues too severe for a filling or dental bonding procedure, which employs a metal-free blend of glass and acrylic. We may suggest a restoration to address deep cases of tooth decay, dental infections or abscesses, or to repair cracked or chipped teeth. We lengthen teeth worn down by teeth grinding too. If you have missing teeth, then a full could be used to secure a dental bridge, or to restore an individual dental implant.
Partial Crowns
Also known as inlays or onlays, these target specific portions of the tooth. We create them from ceramic, and each will be custom-made. The inlays fit in between the cusps on top of the teeth, while the onlay fits over them.
Full Crowns
A regular dental crown covers everything above the gum line, the entire visible tooth structure. Like partials, these have the potential to last for decades to come with proper care and attention. After all, the teeth we attach them to could be vulnerable to issues like infection or gum disease, and routine care will help keep them bright as well, ensuring an esthetically-pleasing appearance that blends with your smile.
Design and Placement
To create one, we start by removing small amounts of structure from the tooth. Next, we take detailed impressions and images with digital technology. With the information we gather, we begin the process of designing and creating the restorations in a dental lab setting. When the restoration is complete, you will return to the office so we can check the fit and if necessary, make final adjustments. We often create them with porcelain or zirconia, which we shade to blend with your smile and mimic the translucent nature of tooth enamel. We then discuss how to keep your new restoration strong and bright. If you have any questions about restoring or repairing a tooth, or if you have an issue that may need attention, then contact our team today. We want to help you enjoy optimal oral health!
DO YOU HAVE QUESTIONS ABOUT RESTORATIVE DENTAL CARE?
Our team is ready to help you enjoy a beautiful smile that remains free of painful cavities and infection. For more information on protecting the function, health, and beauty of your smile, then call the office of James Stewart, DDS in Livonia, MI, today at (734) 425-4400.