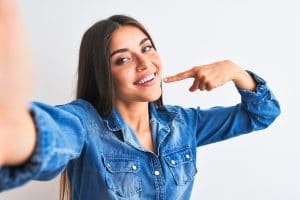 For people with unsightly teeth stains, we have professional care to break them up and brighten smiles, often by several shades! In today's blog, your Livonia, MI, dentist is going to explain how we remove stains, and what can be done to protect both the health and beauty of your smile from home.
The Causes of Those Unsightly Stains
What causes these embarrassing stains to develop in the first place? Well, often the foods and drinks we consume are a major factor! Foods high in sugar and starch could leave behind particles for bacteria to consume, which leads to plaque buildup and more visible discoloration. Drinks with dark pigments and tannins also leave behind stains, such as soda, coffee, tea, and red wine. Poor oral hygiene habits also enable plaque to form, another factor. Finally, if you smoke cigarettes or use tobacco products this could leave behind discoloration too!
In-Office Option
Now that we know how they form, let's look at how we remove them. For results in as little as one to two hours, we can could opt for an in-office option. We begin with the application of a protective layer on your lips and gums. Next, we apply a special gel to the teeth, which we activate with a light. The gel's bleaching ingredients begin to break up the stains, offering a more attractive smile in one visit!
Removing Discoloration from Home
We also have an option you can use from home, which contains desensitizing agents to prevent uncomfortable tooth sensitivity. We start at the office, where we take detailed impressions of your smile to create a set of plastic trays. We send you home with the trays and a bleaching gel. At home, you will fill the trays with this gel and wear them for a set amount of time each day. Usually, this is between 30 and 45 minutes. The trays help ensure even whitening and prevent saliva from diluting the gel's strength. The total course of treatment will depend on the cause and extent of your discoloration, but usually falls between a week and ten days. You can then keep the trays and any remaining gel for touch-ups as needed in the coming months.
If you have any questions about our teeth whitening treatments, of it you would like to schedule a visit for cosmetic care or preventive checkups and cleanings, then contact our team today. We want to help you enjoy a smile that makes you proud!
DO YOU HAVE QUESTIONS ABOUT COSMETIC DENTISTRY?
Our team is ready to help people maintain bright and beautiful smiles for months to come. For more information our cosmetic treatment options, then call the office of James Stewart, DDS in Livonia, MI, today at (734) 425-4400.