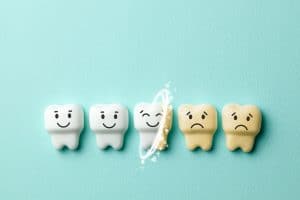 Over time, multiple factors could cause teeth stains to form, including lack of proper oral hygiene and the consumption of certain foods and drinks. Fortunately, your Livonia, MI, dentist knows how to remove stains, and offers two very unique options to help brighten teeth and improve the overall beauty of your smile.
In-Office Treatment
If you need results in a short time frame, then you may be interested in our in-office option. Using a powerful bleaching gel and a special light, this brightens smiles in as little as one to two hours. We start by placing a protective covering over your lips and gums, and then applying the bleaching gel to the teeth. A curing light then activates the bleaching gel, which begins breaking up surface stains from your smile. Afterward, your smile will be noticeably brighter!
Removing Discoloration from Home
We also have an option that you can use from home. In addition to addressing surface stains, this option could also remove minor intrinsic discoloration, which forms beneath the enamel, and limits the risk of tooth sensitivity during use too. The process starts with an initial office visit, in which we take impressions to create a set of plastic trays. You return home with these trays and gel, wearing the gel-filled trays each day for 30 to 45 minutes on average. After a week to ten days, depending on the cause and extent of your discoloration, you could see your smile brightened by several different shades! The trays are then yours to help for touch-ups down the road.
Keeping Your Teeth Bright
Following treatment, you will likely be eager to ensure your new results last as long as possible. Routine care both at your home and in our office could help lengthen the amount of time your teeth stay bright. For example, a cleaning every six months means we remove plaque buildup, which otherwise makes discoloration more visible (and increases the risk of tooth decay and gum disease). You fight plaque from home by brushing your teeth twice a day for two minutes, and flossing each night. Cutting back on drinks with dark pigments, such as tea, red wine, soda, and coffee, is also beneficial, as is consuming fewer sugary and starchy foods. You not only keep your teeth shining, but also lower the chances of tooth decay and gum disease developing. If you have any questions about removing teeth stains, or about better homecare habits, then contact our team today.
DO YOU HAVE QUESTIONS ABOUT DENTAL DISCOLORATION?
Our team understands how discoloration forms, and what can be done to brighten smiles. For more information on potential solutions to stained teeth, or to schedule a consultation, call the office of James Stewart, DDS in Livonia, MI, today at (734) 425-4400.