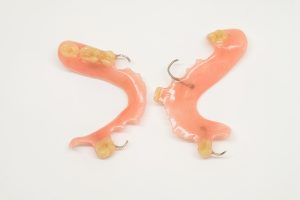 Losing multiple teeth could mean serious trouble or your smile's function and appearance, but you may not need a full set of dentures yet. In these situations, we may suggest replacement with a set of partial dentures. In today's blog, your Livonia, MI, dentist explains how we address tooth loss with these innovative dentures.
The Causes of Missing Teeth
Losing natural teeth could lead to a breakdown in your smile, one linked to further tooth loss and an older appearance. We may lose teeth due to cavities, infection, injury, or in most cases, the advanced stage of gum disease, periodontitis. When gaps appear, this could lead to misalignment, and trouble eating correctly or speaking clearly. The body will also no longer send doses of calcium and phosphorus to the bone tissue around the missing roots. Over time, this could cause the bone structure to break down, leading to an aged appearance and additional gaps in your smile. When you suffer from tooth loss, let us know so we can help restore your smile!
Creating a Custom Set of Dentures
There is no one-size-fits-all approach, as every smile is different. To create a set customized for your smile, we start by taking detailed images with intraoral cameras and digital x-rays. These images let us understand the cause and extent of your tooth loss, and give us the information necessary to design and create a custom prosthetic in a lab setting. The prosthetic's base is made from acrylic and is designed to look like gum tissue. Teeth will be created from porcelain, which is color-matched to blend with your smile and offer a lifelike appearance. The material can also absorb daily bite forces to provide a dependable chewing surface and long-lasting prosthetic.
The Partial Prosthetic
A partial addresses multiple gaps in your smile, for cases too advanced for a bridge, but not enough to require extraction and a full set of dentures. There will be metal clasps that attach to natural teeth and stay invisible when worn. This option is removable and lasts about 5 to 10 years. However, we could also support them with dental implants for an option that never slips, doesn't need to be removed, and could last for decades to come. If you have any questions about how we replace missing teeth, then contact our team today to learn more.
DO YOU HAVE QUESTIONS ABOUT PROSTHETIC DENTISTRY?
Our team wants to help you maintain good oral health by addressing your missing teeth. For more information on how we replace missing teeth, then call the office of James Stewart, DDS in Livonia, MI, today at (734) 425-4400. You can also visit our office at 15873 Middlebelt Rd Suite 100 Livonia, MI 48151.