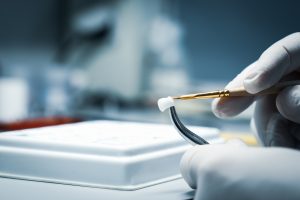 When you have a cavity, or a tooth becomes damaged or infected, then a restoration could help stop discomfort and safeguard your tooth. We could repair your smile with a full or partial dental crown. In today's blog, your Livonia, MI, dentist will look at how we repair smiles with full and partial crowns, each designed to blend with your smile.
The Benefits of a Crown
A dental crown is a durable and strong restoration, one we can use to correct issues too severe to be treated with a dental filling or dental bonding procedure. Once in place, they last for decades to come and often, we design them to blend with your smile and offer a lifelike appearance. We could use them to address tooth decay and dental infection, repair cracks and chips, and lengthen the teeth worn down due to teeth grinding. Placement could also reshape malformed teeth, improve bite balance, and also replace missing teeth by securing a bridge or completing a single tooth dental implant.
Creating Full and Partial Options
A full crown covers everything above the gum line. Partial ones address specific portions of a tooth, treating issues too severe for a filling, but not major enough to require a full restoration. The inlays fit in between the cusps of the top of your teeth, while an onlay fits over the cusps. To create them we first remove small amounts of structure and take detailed impressions and images with digital scanning technology. Using the information in a dental lab setting, we custom-make each one for your smile. When ready, we attach them with a secure bonding agent. With proper care and attention, they can last for decades to come, possibly even a lifetime.
Keeping Your Newly Repaired Tooth Healthy
To protect your restoration (and the rest of your smile) we suggest taking time to brush for two minutes twice a day, and floss every evening. Try to consume fewer sugary foods and drinks, and see us every six months for a checkup and cleaning visit. With a few simple steps, you can safeguard your smile against factors like tooth decay, infection, and periodontal disease, which could threaten your smile. If you have any questions about how we repair smiles with full or partial crowns, then contact our team today to learn more.
DO YOU HAVE QUESTIONS ABOUT DENTAL RESTORATIONS?
Our team wants to protect your smile from infection or tooth loss with a lifelike and durable restoration. For more information on how we restore the health and beauty of your smile, call the office of James Stewart, DDS in Livonia, MI, today at (734) 425-4400. You can also visit our office at 15873 Middlebelt Rd Suite 100 Livonia, MI 48151.