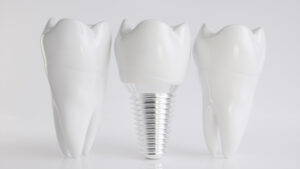 When you have missing teeth, we can address the gaps with lifelike and durable dental implants. We can replace a single lost tooth, or even support a denture! In today's blog, your Livonia, MI, dentist talks about how we provide natural-looking dental implants for minor or severe tooth loss!
The Dental Implant
What makes a dental implant so different from other options, like crown-secure bridges or removable dentures? Well, a dental implant isn't held in place with a crown, suction, or clasps. Instead, we surgically insert a biocompatible post made from titanium into the jawbone. The body actually accepts this as a new and natural root, so it bonds with the jaw and prevents the breakdown of jawbone tissue that follows tooth loss. This means your new tooth now has the potential to last for decades, or possibly a lifetime! In addition, we attach an abutment to secure the restoration. The crown will act as the visible part of your new tooth, and provide a lifelike appearance.
Bridges and Dentures
While we can address single missing teeth with dental implants and crowns, what of you have more severe cases of tooth loss? In these situations, our team can actually insert multiple posts into the jaw. For a bridge, we can use one or two free standing posts to secure a bridge, so we don't have to remove structure from natural teeth as we could with a traditional bridge. For dentures, we can remove teeth and then insert multiple posts per arch, six to eight usually, or as little as four in some cases. We then attach the custom-made denture to the posts. This prosthetic will now be fixed in place, never slipping and never requiring removable for cleaning or soaking. In fact, your prosthetics will last much longer than their crown-secured or removable counterparts.
Mini Implants
If you have a jawbone that has become weakened by tooth loss, this could mean implant placement is impossible without first undergoing grafting or sinus lifts to rebuild the weakened portions of your jaw. However, we could use Mini Implants, which require less jawbone structure for support, so you can obtain a full smile in one visit without the need for other oral surgical procedures to prepare the smile.
If you have any questions about addressing missing teeth, then contact our team today to learn more. We want to help you maintain a full and stunning smile for years to come!
TALK TO YOUR LIVONIA/DETROIT, MI DENTIST ABOUT IMPLANT DENTISTRY
We would like to talk about treating your missing teeth with a long-lasting and durable replacement option. If you want to learn more about lifelike tooth replacement, then please contact your Livonia, MI, dentist, Dr. Stewart, by calling (734) 425-4400.