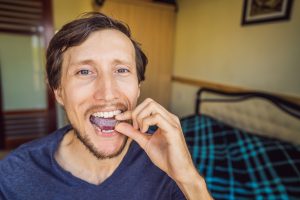 We recently discussed how an oral appliance could correct orthotropic issues in childhood. But if you're an adult who has issues with restricted airways at night or negative changes to your facial structure, we could also offer orthotropic treatment. In today's blog, your Livonia, MI, dentist discusses the esthetic benefits possible with our Homeoblock™ oral appliance.
When We Need Treatment
When you have complications with the growth and development of your jaw and oral structures, this could impact the alignment of your smile, how your teeth erupt, and even how you breathe during the night. When possible, we like to correct these issues in childhood, guiding the growth of the smile with a unique BioBloc oral appliance. However, if you didn't have these concerns addressed in childhood, we could offer treatment for adults using the Homeoblock™ oral appliance. If you have issues with the shape of your jaw, facial symmetry, or with breathing without cessation or snoring, then talk to our team.
Benefits for Our Smile's Appearance
When we treat this issue, if could offer improvement for facial beauty, providing fuller cheekbones, a broader smile, better facial symmetry, and a reduction in laugh lines and wrinkles. Treatment also makes breathing at night easier, so you're less susceptible to sleep apnea and chronic snoring, and feel more rested and alert during the day. These benefits could help you feel more confident, and offer a boost for both your oral health and your overall quality of life.
The Homeoblock™ Oral Appliance
To begin, our team will take a series of detailed images of your smile with digital scanning technology. The images will allow us to identify the factors behind your poor facial symmetry and other complications, so we can plan your treatment. For many, we can create and custom-fit an oral appliance. The device will look and fit much like a mouthguard, and is worn as you sleep at night. The device then helps reposition your jaw and oral structure to correct esthetic issues and provide better balance. We could also discuss treatments like orthodontics or restoration placement to improve alignment and balance too. The device is worn as you sleep, and provides a comfortable and noninvasive solution.
If you have any questions about orthotropic treatment for adults, or if you would like to try our Homeoblock™ device, then contact our team today.
DO YOU HAVE QUESTIONS ABOUT ADULT ORTHOTROPICS?
Our team is ready to help you enjoy better breathing and improved facial structure with orthotropic care. For more information on improving the appearance of your facial structure in childhood and your adult years, then call the office of James Stewart, DDS in Livonia, MI, today at (734) 425-4400. You can also visit our office at 15873 Middlebelt Rd Suite 100 Livonia, MI 48151.