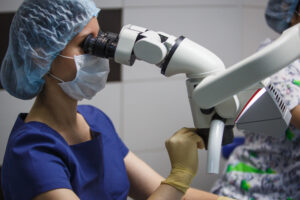 All fields of medicine are continuously evolving, adding new procedures and dropping old treatment that no longer serves us as a need. This is especially true in dentistry, through both advancements in structure and in fighting infection. Our office enjoys being routine early adopters of new processes in imaging, diganosis, and treatment.
There are numerous benefits in these innovations, for both us as oral health professionals, and you, our patient! We want to ensure that your experience is both the most comfortable it can be, but also safer than ever before. We do this both in our dental procedures as well as in state-of-the-art air filtration. In these times, people may feel understandably worried about disease transmission, so it is important to us that our office is as safe as it can be.
Today, your Livonia, MI dentist explains some of the ways we have invested in your smile's future by diving headfirst into cutting-edge technology. This can save you time and comfort, making your visits to the office more pleasant.
Laser Detection
One of the most fascinating recent advancements in dental technology is titled DIAGNOdent. This technology allows a dentist to monitor cavity development with a simple reading of a laser reader. Amazingly, it can diagnose not only change in enamel, but also the chemical makeup of the teeth. So we are able to see demonstrable documentation of the extent of your decay.
To say that this is groundbreaking is an understatement. We can now save time, and it is also much less intrusive than traditional methods of diagnosis. By seeing the change in your tooth's chemical makeup, we can relly see how much damage has been done, and therefore if you may be at risk for other forms of harm, such as an infection within the tooth. With this, we may be able to hold off the need for this surgery, helping you to maintain as much of your natural dentin matter as possible.
Intraoral Scanners
Another fascinating piece of new technology that we utilize is called the Trios Intraoral Scanner. This machine gives us a digital impression of your smile, limiting mess and hassle for you as the patient. These images are incredibly accurate, and can even give us appropriate coloration so that we can address any pathological concerns.
No longer do we need to cast your mouth with a messy material, so after your appointment, you should be good to make your next meeting without any trouble!
Camera Technology
The shift from film to digital photography has had a massive impact on the history of dentistry, as we are able to take much more creative looks inside the mouth than ever before. And by eliminating the cost of film negatives and prints, we are able to take many more images than we used to, allowing for more clues for your dentist.
Next week, we will discuss some of our other cutting-edge technology that we have in our office. We're determined to keep your mouth safe!
ABOUT YOUR LIVONIA, MI, DENTIST:
James Stewart, DDS, and our compassionate staff proudly serve patients of all ages from Livonia, MI, as well as Farmington Hills, Farmington, Plymouth, Northville, Novi, Dearborn Heights, Dearborn, Garden City, Westland, Redford, and the surrounding communities. To schedule a consultation, call our office today at (734) 425-4400.