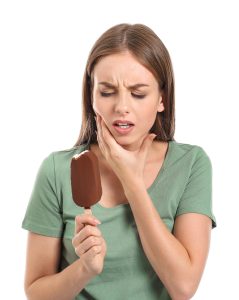 Over time, a cavity will grow in severity until your tooth hurts and an infection is imminent. However, we can use advanced laser technology to diagnose cavities in the earliest stages, so we can provide a lifelike treatment and stop discomfort. In today's blog, your Livonia, MI, dentist talks about how we use the DIAGNOdent system.
The Diagnostic Process
When you come to our office, we will take detailed images of your teeth, jaws, and oral structures using digital x-rays and intraoral cameras, so we can see your smile both above and beneath the gums in great detail. We offer a diagnosis with better accuracy and precision. To specifically search out tooth decay, we also have the DIAGNOdent laser system. This handheld device emits a laser that alerts us to areas with decay, even in the earliest stages of demineralization (weakened enamel). This way we not only diagnose cavities, we do so early enough to treat them before you experience toothaches or tooth sensitivity. The machine's read out also lets us assess severity too, so we can plan your treatment with precision.
Treatment
For many cases, we will provide a filling. This single-visit treatment involves administering a local anesthetic and removing all decay from the tooth. We then apply a composite resin filling, one that is metal free and safe for all ages. The material is also color-matched to blend with your tooth. We then polish your tooth thoroughly for a brighter appearance. We also have custom crowns, inlays and onlays, and other treatments to address cavities in greater severity. Treatment not only stops toothaches, but also prevents the onset of infections or abscesses, which could otherwise threaten the stability of your tooth!
Preventing Cavities
What about prevention? You can lower your risk of cavities with preventive care each and every day. For example, be sure you start your day by brushing with a fluoride toothpaste for two minutes, and do the same that evening too. You also need to floss every evening and if possible, cut back on sugary foods and drinks. You also help by seeing us for an exam and cleaning, so we can identify problems early and also remove all harmful plaque and tartar buildup. A visit now let's you receive care before the hectic holiday season, and also allows you to use your remaining dental insurance benefits too.
DO YOU HAVE QUESTIONS ABOUT DENTAL TECHNOLOGY?
We want to address problems in the earliest stages, even before you experience discomfort. For more information on how our team will diagnose and treat your smile, then call the office of James Stewart, DDS in Livonia, MI, today at (734) 425-4400. You can also visit our office at 15873 Middlebelt Rd Suite 100 Livonia, MI 48151.