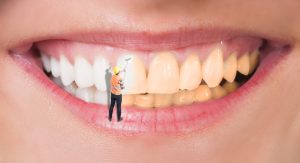 Yes, and the American Dental Association agrees! A dental cleaning every six months could help people of all ages, from toddlers to seniors. When we clean your teeth, we fight the factors that could otherwise lead to tooth decay and gum disease, as well as bad breath and discoloration. In today's blog, your Livonia, MI, dentist explains what makes a dental cleaning so important for your smile.
The Cleaning Process
How do we actually clean your teeth? When you sit down in the chair, the dentist or one of our dental hygienists will use an ultrasonic scaling device and a manual tool to begin breaking up and removing all plaque and tartar from the surfaces of the teeth. The process only takes a few minutes to complete, and we top it off by polishing your entire smile. You leave with a brighter smile, and this could also protect your overall oral health.
The Risks of Plaque and Tartar
Plaque buildup occurs when harmful oral bacteria break down food particles left behind on and between your teeth. Bacteria especially enjoy breaking down the particles left by sugary foods and drinks, or meals high in starch, as these often remain stuck to the teeth. Over time, plaque will harden into tartar. Brushing and flossing may limit how much buildup accumulates, but it cannot remove the buildup completely. Unless removed, this could lead to the onset of tooth decay, dental infection, gingivitis, gum disease, stained teeth, and even bad breath. To avoid these complications, you should see us every six months for a thorough dental cleaning!
Cleaning Teeth at Home
In addition to seeing us every six months, you should take proper care of your smile from home, as this could help safeguard your teeth from major buildup. You should brush your teeth when you wake up and then once again before going to bed. Each session should take about two minutes, and involve the sue of a fluoride toothpaste. Every evening before going to bed, you also need to floss thoroughly. When you floss, you remove what a toothbrush alone cannot! Also, consider consuming fewer foods high in sugar and starch, and drink more water in lieu of sodas or other sugar-rich beverages.
If you have any questions about these treatments, or if you would like to schedule a checkup and cleaning visit with our team, then contact our team today.
DO YOU HAVE QUESTIONS ABOUT DENTAL CLEANINGS?
Our team wants to help you preserve both the health and beauty of your smile! For more information on our preventive treatment options, then call the office of James Stewart, DDS in Livonia, MI, today at (734) 425-4400. You can also visit our office at 15873 Middlebelt Rd Suite 100 Livonia, MI 48151.