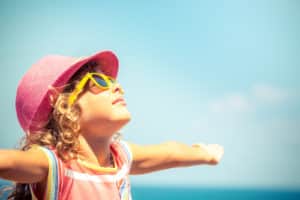 If you're a parent, then you're well aware that summer break is here at last. Your children now have a lot more free time to spend with their friends, play outside, or watch TV. This also means a lot more time for snacking. However, instead of supplying your little ones with sugary drinks and snacks that do no favors of their smiles, why not provide healthy alternatives? We have some tips for protecting little smiles during summer break.
Tips for Protecting Little Smiles During Summer Break
Offer water: Sodas, as well as energy drinks and even sports drinks, contain a lot of sugar and a highly acidic content, which weakens tooth enamel and makes tooth decay more likely. However, water doesn't contain sugar or acid. In fact, your tap water contains fluoride, which attracts minerals to the teeth and strengthens the smile's defenses against cavities.
Healthier snack options: Instead of snack cakes, candy, or chips, there are plenty of smile healthy alternatives that are just as delicious. Fresh fruit, vegetables, nuts (such as a fun trail mix) and low-fat yogurt are healthy and don't pose the same risk for young smiles as candy.
See the dentist: Summer is a great time to schedule a checkup and cleaning. Your children won't miss school and don't have to worry about conflicts with after school activities. A routine visit allows the dentist to examine the smile and treat potential issues in the early stages, before they can progress any further,
Remind them to floss: Like you, kids need to floss every day before going to bed.
Make sure they brush properly: You should assist younger children or monitor older owns to ensure they are brushing twice a day for no less than two minutes per session.