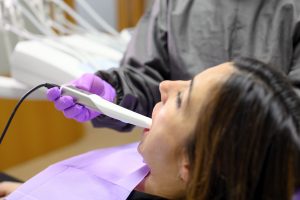 We recently looked into how advanced laser technology could help identify the earliest stages of tooth decay. In today's blog, we're going to look at how we use two unique digital systems to diagnose the smile, and also educate patients about the state of their smile. Your Livonia, MI, dentist is talking about intraoral cameras and Orasphere!
Intraoral Camera Technology
We want to provide an exam with precision and accuracy, creating a better diagnosis and choosing the best treatment option to address your oral health issues. As part of the exam process, we often use intraoral cameras. These gather detailed images that uncover what cannot be seen with the naked eye, enabling us to even zoom in on specific portions of your smile. Our team employs the 3Shape Trios Intraoral Scanner. The camera is completely wireless and placed at the end of a very thin wand. Using the wand, we can gather multiple images from several different angles quickly and comfortably. The images will then be presented chairside immediately, so we can make a diagnosis right there and help you better understand the state of your smile. We also capture before and after images, so we can show you examples from other patients and help you better visualize the results of potential treatment options. Not only do you receive a more accurate diagnosis, but you can make more informed decisions about your dental care.
Education with Orasphere
Our team also provides Orasphere education software! Instead of just explaining your oral health issues and discussing treatment, we can also show you educational and instructional videos. You can watch these on your own before treatment, or alongside our team members so we can answer any questions.
Each video contains 3D animations about an oral health issue and procedure, visually explaining the process and helping you better understand it without becoming bogged down by clinical terms. Each one contains step-by-step breakdowns, short explanations without fluff, and actual information. Your wait time becomes educational, and you don't just sit in the chair feeling anxious as you wait. You can discuss anything you see or questions you have with our team, we want every patient to feel informed about procedures and common issues like gum disease or tooth decay.
If you have any questions about the digital technology we use, or if you want to schedule a visit, then please contact our team today.
DO YOU HAVE QUESTIONS ABOUT TREATING YOUR SMILE?
We not only want to treat your smile, but also educate you about your own oral health. For more information on our diagnostic and treatment process, then call the office of James Stewart, DDS in Livonia, MI, today at (734) 425-4400.