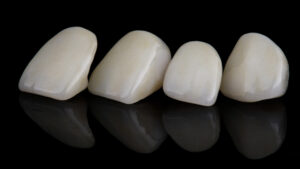 When you have a tooth that sustains an injury, develops a serious cavity, or is misshapen, then we can help your oral health and bite function with a crown. In addition, we can offer lifelike options that blend with your smile! In today's blog, your Livonia, MI, dentist talks about our lifelike full and partial dental crowns.
Full and Partial Crowns
There are two types of restoration we can place, full and partial. A full dental crown is one that covers the entirety of your tooth structure and can address serious oral health issues. A partial is one that addresses a specific portion of your tooth. For example, an inlay fits in between the cusps on top of your tooth, while an onlay fits over the cusps. Each one will be custom-made for your smile to ensure an attractive appearance and good fit, as well as a properly balanced bite as well.
Benefits for Your Smile
A full can be used to address tooth decay too severe for a filling, or to aid in treatment of a dental infection. The restoration can also address severe damage, correct misshapen teeth, and improve chewing function and bite balance. If you have missing teeth, then we can use one or two to support a bridge, or one to restore a single tooth dental implant. A partial addresses tooth decay too severe for a filling but not advanced enough that a full crown is needed. The same goes for more minor damage.
Creating and Placing Them
To get started, our team will examine your smile and decide which option you need. We then remove structure from the tooth and take detailed digital images and impressions, which we will use in the design and fabrication process. A local anesthesia can ensure you're comfortable during the duration of the treatment. We then create your custom restoration and when you return for a second visit, we will check the fit and make any necessary adjustments. Finally, we connect your new restoration to the tooth with a powerful bonding agent, so you have a tooth that looks great and is also protected from further decay or infection.
If you have any questions about how we restore smiles with full or partial dental crowns, or if you think you may need one to improve your oral health and bite function, then contact our team today. Using materials like ceramic, we can ensure the results look natural and blend with your smile seamlessly.
SCHEDULE A VISIT WITH OUR TEAM TODAY
Our team is ready to help return your smile to full function, health, and beauty, often in only one visit. To learn more about restorative dentistry, please call our office in Livonia, MI at (734) 425-4400!