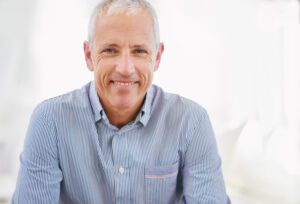 Sometimes, you might need assistance in saving one or more of your existing teeth from further harm. If you have experienced a broken or cracked tooth, it is important to speak with your trained dental professional about your options in repair. Your natural enamel provides a durable barrier between your mouth and the soft tissue within your tooth, and when this protection is lost, you could be at risk of a serious infection.
For the repair of your injured tooth, reach out to a trusted dentist about your options before bacteria have a chance to cause lasting harm. Speak with Dr. James L. Stewart, JR., DDS in Livonia, MI about the possibility of a dental crown to keep your smile safe. This is a sturdy cap that your provider places atop your existing damaged tissue, giving you the ability to chew with confidence again. If you have broken a tooth, treat the situation with the urgency it deserves by seeking out a dental crown method of treatment.
Ask Your Dentist About The Benefits Of A Dental Crown
A cracked or broken tooth can happen to any of us, as we use our mouths on a nearly constant basis for chewing and speaking. While enamel is the hardest substance in your body, it is still susceptible to damage, and this situation can put you at risk. Bacteria love to form colonies within the safety of your natural tooth, and this development can lead to serious harms. You may experience a painful toothache, and your infection can even spread into the bone of your jaw.
For a better outcome, reach out to your dental provider quickly after you experience an injury. This way, you can address your cracked or broken tooth before a harmful infection has a chance to take hold in the soft tissue within. A dental crown is a helpful solution for damaged teeth!
Is A Dental Crown Right For You?
For the treatment of an injured tooth, a dental crown can help you to smile and chew with conviction after you experience damage. This is a durable cap that your provider cements atop your existing material, strengthening the location and blocking the development of bacterial growth.
There are different materials available for your restoration, so be sure to talk to your provider about which solution fits your needs. We also offer partial crowns in order to give you a repair that is tailored to your smile!
Repairing Smiles With Dental Crowns In Livonia, MI
When you need a restoration of an injured tooth, speak to our team about your options to see if a dental crown is your solution. Give us a call at Dr. James Stewart, DDS in Livonia, MI at (734) 425-4400 to schedule an appointment or for more information.